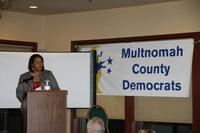 Tomorrow night, Thursday December 12th, Multnomah County Democrats can fix a mistake and elect Lakeitha Elliott as our new Chair. I hope PCPs will turn out in force on Thursday and do this. She's a person of talent and dedication, and she has a bright future as a leader in our party. We owe it to ourselves and our county to elect her as our Chair.
(She won't be elected just because her friends and supporters want it. If you're a Democratic PCP in Multnomah County and want Lakeitha elected as Chair, you have to show up Thursday evening and vote.)
[Note added: The meeting will be held at the Hollywood Senior Center, 1820 NE 40th & not the new MCDems HQ. No explanation given why the change in venue.]
Two events coincided at the November 14th Multnomah County Central Democratic Committee (MCDCC) meeting. First, forty-plus new PCPs were added to the membership; these were, for the most part, people wanting to participate in the nominating convention to replace Rep Michael Dembrow (now Senator Dembrow). Second, a new Chair was elected to replace Teddy Keizer who stepped down to run for the Oregon House. The outcome of the election was that Lakeitha Elliott defeated former Chair KC Hanson.
Unfortunately, after the election, we learned that in letting the brand new PCPs vote as full members, something that has been happening for years, the MCDCC had been violating Oregon state law. Until the party files the appropriate paperwork with the county Elections department, the appointed PCPs are not members of the party or eligible to vote. No one knows how long the party has been getting this wrong, but I moved back to Portland and joined the Mult Dems in late 2007, and it was the practice then. Until last month, however, the votes of not-til-tomorrow PCPs haven't mattered, so this issue continued to go unnoticed.
So the outcome of the Nov 14th election needs a re-do, and that will happen Thursday evening. In the meantime, a lot of anger has been generated because of the surprise outcome and the discovery that the MCDCC had been getting this wrong for many years. Accusations have been made in both directions, on one side about divisiveness, on the other about behind-the-scenes manipulation of the process. And while getting this right is important, I really hope those who are investing so much emotion into these events would take a breath and refocus on the larger picture: electing Democrats and promoting a progressive future for our cities, county and state.
Finger-pointing never works out well. Self-righteous anger usually backfires, too. No one acted in bad faith at the previous meeting; even those who errered in allowing the new PCPs to vote should be held blameless, given that we're dealing with ORS 248.026(2) — and I'm willing to bet a lot of Oregon Democrats are going to be making themselves familiar with ORS 248 in the near future. But the point-of-law that the "selection shall take effect when the county clerk upon timely verification of eligibility, places the name of the person selected on the list of committeepersons" is something that had gone unnoticed for years, by many people, for one simple reason: it really didn't matter.
November 14th was the first time that enough new PCPs were improperly allowed to vote and that those votes made the difference in a crucial matter. Few things that PCPs vote on at Central Committee meetings get less than a unanimous vote. Some, like resolutions on the party's stand on matters of public and political policy, do have closer votes. I can't recall any that might have passed by just a few votes on a night when enough new PCPs were added to the membership to make a decisive difference. It's possible that has occurred, but good luck figuring out if or when.
And frankly, it doesn't really matter. Resolutions mean more to party members than others, including, to a large degree, candidates. Those seeking office take their lead from their own beliefs and goals, followed by what their paid consultants advise them on, what they think their major backers will support (including volunteers), and, way down the list, what the official stand of their political party might be. The overwhelming view of the PCPs of the Mult Co Dems is to oppose the CRC, but most of the Democrats serving in the Legislature voted for it during the 2013 session.
So for local Dems to get in high dudgeon over an understandable mistake in process is ridiculous. Internecine fighting about who said what to whom is one of the few ways Democrats in Oregon's biggest, bluest county will be able to lose their edge in winning close races in 2014. People need to set aside their bitterness, no matter how justified they feel in their anger, and focus on the bigger picture.
I'm hoping those who feel that Lakeitha has been ill-treated — and make no mistake, she was; but so, too, was KC, both deprived of a fair result — will refocus on what matters: getting Lakeitha elected as Chair in the appropriate manner. Those who want to show her their support have to do one thing: turn up at next week's MCDCC meeting and vote. PCPs who support Elliott have to turn up, and they need to bring one or two other PCPs with them. This is not, as The Skanner headline tried to suggest, a matter of race. This is a much smaller issue, one of differing perspectives, some personal agendas, and, in the end, trying to correct a very regrettable mistake.
The best outcome is to reaffirm the election of Lakeitha Elliott. She's qualified, and she's ready to move forward. The party needs young people like her to step into leadership, and she's got the vision, the skills and the energy to help us extend our reach into the community while continuing to win elections within the county and across the state.
If you're a Democratic PCP, show up tomorrow night at the MCDems' HQ on SE Sandy. Cast your vote for Lakeitha (or Tracee Larson, or another candidate; just vote, dude) and let's fix this mistake so we can move forward.