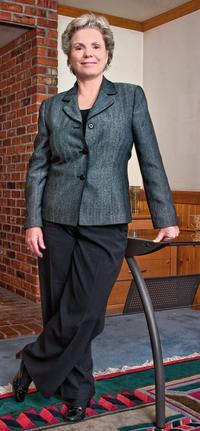 Oregon's 2nd congressional district is tough turf for Democrats. Over the last seven elections, Congressman Greg Walden's vote total has hovered between 67% and 73%.
Over the years, his opponents have run the gamut from serious to near-comical. The good news for 2014? He faces one of his toughest opponents yet.
Meet Aelea Christofferson. She's a successful business owner from Bend who has served on the Oregon Health Fund Board advisory committee and on the board of Cover Oregon.
"Cover Oregon?", you say? That's right. And she's not afraid to mix it up with Congressman Walden over his many, many votes to repeal health care reform. From her statement:
"I fought for the last several years to give small businesses and consumers more affordable and better quality health care. Through that process, I heard from so many individuals who couldn't afford insurance, worried that they'd lose their insurance if they lost their jobs, or couldn't get insurance at all because of a pre-existing condition," said Christofferson.

"Cover Oregon and the Affordable Care Act are not perfect – far from it – but they take real steps to expand access to care for all Oregonians. We need to focus now on making the programs work better. So when I saw Representative Walden and others in Congress push to completely undo reform and turn their backs on Oregonians who need help, I knew I had to do something," said Christofferson. "We need elected leaders in Washington who will do what is best for Oregon every time – whether it's about health care or creating jobs – not leaders who will put short-term political gain first."
She'll be resigning from Cover Oregon in order to take on Congressman Walden.
"I've fought for better health care for years and today the biggest threat to better care is coming from politicians in Washington, DC. The fight to protect the health of Oregonians is going to be won or lost in Washington, where partisans like Greg Walden are saying no to sensible proposals that lower costs and improve coverage."
It's going to be a tough hill to climb to beat Greg Walden. But even if she just succeeds in pinning him down here at home to campaign, instead of traveling the country raising money and supporting candidates as the NRCC chairman, well, that's a win for Democrats.
Learn more about her at AeleaForCongress.com.