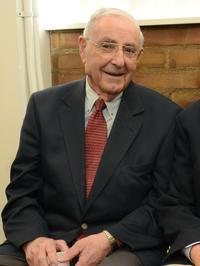 Vic Atiyeh, who was elected Governor of Oregon in 1978 and served two terms, has passed away at age 91.
He is the last Republican to have served as Governor of Oregon. He was also America's first Arab-American governor.
The Oregonian's Jeff Mapes tells the story of Atiyeh's about-face on taxes during his first term as Governor:
Sworn into office on Jan. 8, 1979, the new governor soon faced a nightmare combination of events.

A Mideast oil embargo in 1979 caused an increase in interest rates, which caused a sharp drop in housing starts, which, in turn, caused a drastic slowdown in the wood products industry. State revenues plummeted.

But, as a result of prosperous times during the late 1970s, the state also had a record $600 million budget windfall. The Legislature passed a tax relief package that included a 30 percent reduction in some property taxes.

Atiyeh would later regret signing it. When state revenues plummeted, government was left with a shortfall approaching $700 million. Atiyeh called special budget-cutting sessions in 1980 and three more special sessions in 1982, including a record 37-day special session.

The first-term Republican governor had to deal with a Democratically controlled Legislature. But Gary Wilhelms, who was House Republican minority leader at the time, said Atiyeh had the advantage of knowing the Democratic leaders because he'd served with them in the House and Senate.

"They trusted him," Wilhelms said. "He was a man of his word."

Atiyeh led the Legislature through a series of budget cuts that included cutting welfare at a time when families needed it most. At the same time, the Atiyeh pushed to create Oregon Food Share, the nation's first statewide food bank.

After they concluded that no more could be cut, Atiyeh and Democratic legislative leaders agreed to an income tax surcharge raising the top rate from 10 percent to 10.9 percent. They also hiked cigarette taxes, curbed business tax deductions and cut a property tax relief program.

They didn't ask voters to approve the higher taxes. They just did it.

"During tough times you do everything you need to do," Atiyeh said years later. "You don't worry about getting re-elected. You get the job done."
Rest in peace, Governor.