Do we need more F-18s flying over Portland, Vancouver and the Willamette Valley?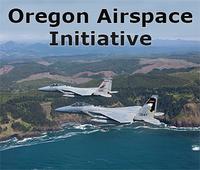 Is it Necessary to Have Fighter Jets Flying over Portland in August, or Ever?
In the discussions that we're having about whether or not the police are overarmed it seems prudent to question the necessity of the Oregon Space Initiative of our local Air National Guard. The other day this came in the mail from the Cully Neighborhood Association:
Cully Association of Neighbors

Dear Neighbor,

Visiting Military Jets - Training Flights August 3-23, 2014 Portland International Airport

Portland/Vancouver metro area residents may notice a temporary change in aircraft operations due to additional military jet operations in and out of PDX from August 3-23, 2014. Visiting military jets (F18/Hornet) will be included in the daily training exercises routinely performed by the 142nd Fighter Wing of the Oregon Air National Guard. The addition of this aircraft type may influence the typical noise exposure in the communities surrounding PDX.

Thank you for your understanding during these temporary conditions.
Related Link: Noise Management at PDX
A Few Problems
Here are a couple problems with having jets visit the Portland area during August - or, really, anytime.
It's the month we're more likely to be outdoors - due to hot weather. The problem here is that the noise from the jets is unpleasant - and it happens multiple times a day. If you're out in your garden picking tomatoes, this is not a sound you want to hear - I'm not sure what the effect of extra spent jet fuel in the air does to the toxicity of the air/soil - but I imagine it's not great. Cully, which is one of the neighborhoods closest to the base also seems to be a place where a lot of organic gardening is going on. What is the extra noise from these jets doing to increase the discomfort of people who live near the base? What does the added spent jet fuel do to the safety of the produce?

We're heating the planet - those 3 weeks we just had with extremely hot weather? I think most would agree, humans have something to do with that. Adding in more jets to the mix, probably isn't doing much to cool things down. Here's an interesting article on the military assault on the global climate.

Are we safe? Are these jets making us any safer? Would they keep us just as safe if they were based 100 miles away in a less populous place? I probably wouldn't even have thought to write if the jets weren't taking off and leaving at all hours of the day and night.
Note: you can reach the public affairs office of the 142nd Fighter Wing, here: 503-335-4104 and via email, here usaf.or.142-fw.list.pa@mail.mil - and they, and the PDX Noise Hotline pdxnoise@portofportland.com do take note of our communications and take them into account.
Jobs. If this is about the hundreds of jobs that this base brings to the region - are we just doing this to employ people?

Overdoing it. We usually have 6 F-15s at this base and now we have 18 (F-15s and F-18s). Is this necessary? Does it make sense to have this many fighter jets taking off and landing so close to an urban area? Is this typically done? And, if so, perhaps it's something that should be discussed on a national level.
I would like to hear what you think about this situation and whether it falls into the category of having more arms around than are needed. And, if this issue concerns you, please let the Air National Guard and PDX Noise Hotline know your concerns.
---
A friend wrote me and asked me to mention that he was hiking in the Mt. Hood wilderness areas today and heard jets flying overhead twice. The impact is harsh. Three things - 1. What's the impact this has on tourism? 2. What's the point of having a wilderness area if we're going to have low-flying fighter jets screaming overhead? 3. How does this impact other species?
8.19.14 - Correction: The jets at PDX are F-15s. The Visiting jets are F-18s.