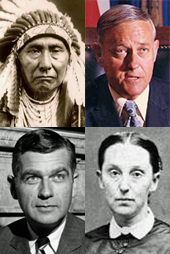 The US Capitol's Statuary Hall features statues of Oregon pioneers Dr. John McLoughlin and Rev. Jason Lee.
In 2013, a campaign fired up to replace Lee with Senator Mark Hatfield. After legislation died in 2013 and 2014 to make that happen, the Governor created a commission to review our contributions to the Capitol.
In a bit of a surprise move, the commission has now recommended returning both statues to a "place of honor" here in Oregon.
The statues would be replaced with two of the following four nominees: Chief Joseph of the Nez Perce, suffragette Abigail Scott Duniway, Gov. Tom McCall and Sen. Mark Hatfield.
The commission will take public testimony on Wednesday, March 4. They're also accepting feedback via the Oregon Historical Society website.