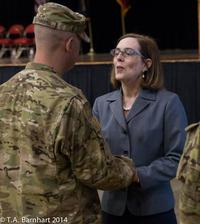 Secretary of State Kate Brown was embarrassed (I hope) to have been caught signing a letter that was written for her by Comcast:
Portland and other opponents want the Federal Communications Commission to block the deal, or put strict conditions on it to protect subscribers.

Others, including Oregon Secretary of State Kate Brown, are enthusiastic supporters.

On Monday, the online tech journal The Verge looked at some of the letters of support from Comcast's political supporters and found they were ghostwritten – sometimes word-for-word – by the company itself. That isn't particularly surprising: Politicians often write letters of support at the behest of their supporters, and legislators frequently propose bills written by lobbyists. OregonLive.com
I'm not sure why Brown signed this letter; despite the Oregonian quoting The Verge that Comcast has donated nearly $10,000 to her campaigns, she hasn't received anything since May 2012. ($4,500 in 2008, $5,000 in 2011 & $2,000 in 2012). And this is Oregon: corporations donate to politicians on both sides of the aisle.
I took a look at Comcast's donations to Oregon politicians to see where they were giving; to simplify, I only looked contributions since the 2013 short session ended. The grand total: $222,250 donated to Democrats, Republicans, "non-partisan" and even school bond campaigns.
One-quarter of a million dollars in less than two years to buy access to Oregon's leading decision makers. And now at least one of those politicians is writing to the FCC to support Comcast's merger with Time Warner. This is not cool.
I happen to think Kate Brown is an honorable person; I think it's entirely probable she does support the merger for the reasons stated in the letter, whoever drafted it. Not every Democrat in the state supports the same things, after all; I have strong differences with labor, for example, on industrial issues that impact the environment. That's life in a pluralist society.
However, the amount of money Comcast has poured into Oregon politics is troubling. I've included the full list of contributions below the fold; here are the biggest recipients:
FWIW, the total contributed by Comcast over the years is $630,000 (since their first donation, to Ryan Deckert, of $1,000 in October 2006).
| committee | total | party |
| --- | --- | --- |
| Kitzhaber for Governor | 16000 | D |
| Committee for Safe and Successful Children | 10000 | |
| Future PAC, House Builders | 10000 | D |
| Kitzhaber 2010 | 10000 | D |
| Promote Oregon Leadership PAC | 10000 | R |
| Senate Democratic Leadership Fund | 10000 | D |
| The Leadership Fund | 10000 | R |
| Friends of Tina Kotek | 8000 | D |
| Friends of Val Hoyle | 6000 | D |
| Peter Courtney for State Senate | 6000 | D |
| Friends of Mark Hass | 5500 | D |
| Friends of Tobias Read | 5500 | D |
| Rosenbaum for Senate (Diane) | 5500 | D |
| Friends of Ginny Burdick | 5000 | D |
| Friends of Jessica Vega Pederson | 4500 | D |
| Committee to Elect Mike McLane | 4000 | R |
| Friends of Jules | 4000 | D |
| Friends of Ted Ferrioli | 4000 | R |
| Bend Tourism, Arts, and Public Safety Initiative | 3000 | |
| Bruce Starr for State Senate Committee | 3000 | R |
| Friends of Lee Beyer | 3000 | D |
| John Davis For Oregon | 3000 | R |
| Friends of Chris Edwards | 2500 | D |
| Friends of Richard Devlin | 2500 | D |
| Friends of Vicki Berger | 2500 | R |
| Portlanders for Schools | 2500 | |
| Yes for Beaverton Schools | 2500 | |
| Elect Deborah Kafourey | 2000 | D |
| Elect Ellen Rosenblum for Attorney General | 2000 | D |
| Friends of Dan Rayfield | 2000 | D |
| Friends of Margaret Doherty | 2000 | D |
| Friends of Phil Barnhart | 2000 | D |
| Gomberg for State Rep | 2000 | D |
| Committee to Re-Elect Peter Buckley | 1990 | D |
(Oddly, Rep Peter Buckley's two contributions were both for $995. Someone explain that to me, please.)
Obviously, Comcast is seeking to buy favor with politicians. They are also seeking to buy favor with those involved in school issues in order to be able to sell services to schools and school districts. They're spreading the money around – the campaign funds for both Ds and Rs in the House and Senate get $10,000 each; we don't want anyone feeling slighted – but Dems are receiving more for the simple reason that Dems are in power.
This is the deleterious affect of money in politics: good people who look bad because they accept legal and politically necessary contributions from public corporations – and they look slimy as a result. Has Comcast bought influence with Speaker Kotek by donating $8,000 to her in the past two years? Or is she taking their money and laughing all the way to the bank knowing she's not doing to lift a finger for them?
How the hell can we know? I do know what she and House Majority Leader Val Hoyle and Senate President Peter Courtney and AG Ellen Rosenblum and newly minted State Representative Dan Rayfield and all the rest would say: Of course not. We serve our constituents and the people of Oregon. No amount of money can buy our vote.
But here's the thing: We don't know that. We have to take them at their word, and we have to take their word in light of the money they are accepting and putting into the campaign accounts. If I call Speaker Kotek's office with a complaint about Comcast and what poor service they are supplying to my community, will that have the same impact as when Comcast's lobbyist (or lobbyists; I don't know how many they hire, but I'm betting it's more than one) sends in one of those notes during a floor session and asks to speak privately with her or another member of the House.
Money is not speech. Corporations are not people. But the money corporations spread around is as ugly and nasty as any thug hired by an old-time ward boss in the bad old days of strong-arm politics. At some point, the politicians who agree that money has an over-sized place in politics have to stand up and act on that belief. They need to start refusing the attempted bribes of Comcast and the other anti-public corporations who exist to squeeze as much profit out of their ill-served customers as possible.
And when the politicians put principle before money, I do believe, at least on the progressive side, we'll step up and have their back. After all, that quarter-million spent by Comcast in Oregon the past two years is money taken from us, their customers.
Shouldn't we have a say in what that money buys?
---
Here is the full table of Comcast contributions to Oregon pols since 3/2014.
| committee | total | party |
| --- | --- | --- |
| Kitzhaber for Governor | 16,000 | D |
| Committee for Safe and Successful Children | 10,000 | |
| Future PAC, House Builders | 10,000 | D |
| Kitzhaber 2010 | 10,000 | D |
| Promote Oregon Leadership PAC | 10,000 | R |
| Senate Democratic Leadership Fund | 10,000 | D |
| The Leadership Fund | 10,000 | R |
| Friends of Tina Kotek | 8,000 | D |
| Friends of Val Hoyle | 6,000 | D |
| Peter Courtney for State Senate | 6,000 | D |
| Friends of Mark Hass | 5,500 | D |
| Friends of Tobias Read | 5,500 | D |
| Rosenbaum for Senate (Diane) | 5,500 | D |
| Friends of Ginny Burdick | 5,000 | D |
| Friends of Jessica Vega Pederson | 4,500 | D |
| Committee to Elect Mike McLane | 4,000 | R |
| Friends of Jules | 4,000 | D |
| Friends of Ted Ferrioli | 4,000 | R |
| Bend Tourism, Arts, and Public Safety Initiative | 3,000 | |
| Bruce Starr for State Senate Committee | 3,000 | R |
| Friends of Lee Beyer | 3,000 | D |
| John Davis For Oregon | 3,000 | R |
| Friends of Chris Edwards | 2,500 | D |
| Friends of Richard Devlin | 2,500 | D |
| Friends of Vicki Berger | 2,500 | R |
| Portlanders for Schools | 2,500 | |
| Yes for Beaverton Schools | 2,500 | |
| Elect Deborah Kafoury | 2,000 | D |
| Elect Ellen Rosenblum for Attorney General | 2,000 | D |
| Friends of Dan Rayfield | 2,000 | D |
| Friends of Margaret Doherty | 2,000 | D |
| Friends of Phil Barnhart | 2,000 | D |
| Gomberg for State Rep | 2,000 | D |
| Committee to Re-Elect Peter Buckley | 1,990 | D |
| Alan Olsen for Oregon Senate Committee | 1,500 | R |
| Cliff Bentz for State Representative Committee | 1,500 | R |
| Committee to Elect Betsy Johnson | 1,500 | D |
| Committee to Elect Shemia Fagan | 1,500 | D |
| Elect Betty Komp | 1,500 | D |
| Friends of Ann Lininger | 1,500 | D |
| Friends of Jennifer Williamson | 1,500 | D |
| Friends of Mark Johnson | 1,500 | R |
| Friends of Vic Gilliam | 1,500 | R |
| Tim Knopp for State Senate | 1,500 | R |
| Brad Witt for State Representative | 1,000 | D |
| Citizens for Jim Weidner | 1,000 | R |
| Citizens to Elect Carl Wilson | 1,000 | R |
| Committee to Elect Gene Whisnant | 1,000 | R |
| Committee to Elect Sal Esquivel | 1,000 | R |
| Committee to Re-Elect Greg Smith | 1,000 | R |
| Friends of Bill Kennemer | 1,000 | R |
| Friends of Chuck Riley | 1,000 | D |
| Friends of Duane Stark | 1,000 | R |
| Friends of Elizabeth Steiner Hayward | 1,000 | D |
| Friends of Greg Matthews | 1,000 | D |
| Friends of Herman Baertschiger | 1,000 | R |
| Friends of Jackie Winters | 1,000 | R |
| Friends of Kim Thatcher | 1,000 | R |
| Friends of Rob Nosse | 1,000 | D |
| Friends of Tom Hughes | 1,000 | |
| Kathleen Taylor for Oregon | 1,000 | D |
| Nick Fish for City Council | 1,000 | D |
| Oregonians for Clem | 1,000 | D |
| Sara Gelser for State Representative | 1,000 | D |
| Vote 4 Lou Ogden | 1,000 | R |
| Anna Peterson for Mayor | 500 | |
| Caddy McKeown for Representative | 500 | D |
| Citizens to Elect John Cook | 500 | |
| Committee to Elect John Lively for State Representative, Dist. 12 | 500 | D |
| Friends of Alissa Keny-Guyer | 500 | D |
| Friends of Andy Olson | 500 | R |
| Friends of Brent Barton | 500 | D |
| Friends of Carla Piluso | 500 | D |
| Friends of Chris Gorsek | 500 | D |
| Friends of Chuck Thomsen | 500 | R |
| Friends of Dan Saltzman | 500 | |
| Friends of Janet Carlson | 500 | |
| Friends of Jim Bernard | 500 | R |
| Friends of Joe Gallegos | 500 | D |
| Friends of Joe Pishioneri | 500 | |
| Friends of Lew Frederick | 500 | D |
| Friends of Nancy Nathanson | 500 | D |
| Friends of Rod Monroe | 500 | D |
| Friends of Sherrie Sprenger | 500 | R |
| Nearman4Oregon | 500 | |
| Paul Holvey for State Representative | 500 | D |
| Reardon for Oregon | 500 | D |
| Team BSW | 500 | D |
| Wayne Krieger for State Representative | 500 | R |
| Clark for Mayor | 400 | |
| Oregon Automobile Dealers Association - PAC | 360 | |
| Committee to Elect John E. Huffman | 1,000 | R |
| total | $222,250 | |