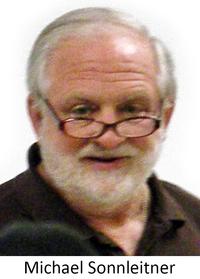 By Michael Sonnleitner of Portland, Oregon. Michael has taught Political Science full-time at PCC for over 26 years and would be the first PCC teacher ever elected to the PCC Board of Directors.
Throughout those 26 years over 13,000 PCC students have enrolled in my classes, many of whom have helped me keep young in spirit even as I have learned much from their lives and challenges. They have inspired me to serve a total of 14 years on the PCC Educational Advisory Council (EAC) where I have helped advise four PCC District Presidents on matters ranging from curriculum and job development programs to a wide range of college policies impacting PCC employee and student life issues.
On the Board I would represent portions of NE and SE Portland which includes PCC Southeast Campus (one of four PCC campuses where I have taught). My current grassroots commitments include serving as the Vice Chair of the Montavilla Neighborhood Association, on the SE Uplift Board (which represents 20 Neighborhood Associations), and on the 82nd Ave. Improvement Coalition. I am also involved with civil rights groups including IMIrJ (the Interfaith Movement for Immigrant Justice) and "Don't Shoot" Portland, and for over a decade have been an active volunteer for the Human Solutions Daybreak Homeless Shelter Program. My deep community roots have grown out of early childhood experiences.
I was raised as an only child by a single-parent father who showed me how the joy of giving is greater than receiving. He taught me that it is possible to be prudent in times of scarcity and to share what we have with others. Through my childhood experiences, including 15 summers of fruit picking with migrant workers, I learned to identify strongly with those with little money and few opportunities to fulfill their dreams. As the first in his family to complete college, my Dad encouraged me to earn a Ph.D. and respected my opinions even when they clashed with his own very conservative political views. I was taught to listen carefully to different points of view, learn from them, seek common ground upon which to build relationships, and then go on to change things in the many small ways we can.
Portland Community College has improved many thousands of people's lives and yet could do more in response to community needs. PCC provides college transfer credits at relatively low cost as well as vocational training that help graduates make a living. For some it offers the last chance to complete high school or improve their skills so as to secure a better future. Voters have shown their appreciation by approving three large bond measures in the past, including $374 million in 2008 which dramatically expands PCC's capacity to serve students. This public generosity has been met with declining state budget allocations and increased costs to students, resulting in record student debts (greater than the total of U.S. credit card or home mortgage debt) – which contributes to lower enrollments. Sadly, Oregon is remains one of only three states that spend more on prisons than on higher education…
Students need the educational opportunities PCC provides and our communities need a workforce prepared with skills that society requires. As an experienced educator who has known plenty of the pain life can bring, I stand with grassroots groups from underrepresented communities in calling for:
Low To No Tuition Increases, since many communities now risk losing equal and open access to Affordable Education for Jobs & Lifelong Learning.
Embracing Diversity throughout PCC and the communities it serves, knowing we can do more to Build Bridges of Empathy & Action.
Greater Transparency & Inclusion in PCC Board policy making, by fostering more participation – including a Non-Voting Student Board Member, and Increased PCC Faculty & Staff Collaboration.
Why do I want to serve on the Board? Because the PCC Board has a great need for a veteran teacher who takes the "community" in Portland Community College seriously and has been working for years to improve it for the entire Portland Metropolitan Area. Because a grassroots activist with deep roots in the Zone 3 area is in a better position to engage a wide variety of currently underrepresented populations. Because the critical thinking and creative problem solving skills I have developed in interaction with my students could do much to help the Board address present and future challenges.
On May 19, 2015, voters will make a choice. While there is no lack of worthy candidates, I firmly believe the nonpartisan 7-member PCC Board (elected by district) and the public it serves would most benefit if it were to include the first ever PCC teacher elected to the PCC Board. This is an historic opportunity.
Learn more about how to support me in this effort at: Zone3pcc.com