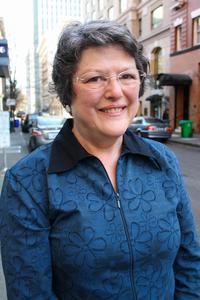 Governor Kate Brown has named her successor. Oregon's next Secretary of State is Jeanne Atkins.
Largely unknown to the general public, Atkins is a well-known and respected professional in the political world. She was chief of staff to Jeff Merkley when he was Speaker of the House and recently retired as his state director in his U.S. Senate office.
From Gov. Brown's statement:
"Jeanne Atkins will serve Oregon with integrity, transparency and good sense," Governor Brown said. "I am pleased to be able to appoint a successor with such impeccable professional credentials." ...

"Jeanne Atkins has stood for elective office, she has worked in concert with elected officials and advocacy groups, and helped craft and implement public policies," Governor Brown said. "She is ideally qualified to be Oregon's next Secretary of State."
No word yet on whether Atkins intends to run for a full term in 2016.
Update: A spokesperson for the House Republicans complained loudly about the appointment of Jeanne Atkins.
"The law calls for a Democratic placeholder in the Secretary of State's Office, but I don't know that Governor Brown could've picked an individual with more partisan credentials than Ms. Atkins," says Kara Walker, the House GOP spokeswoman.

"This appointment comes a day after the governor named the former Oregon teachers' union leader as her new education policy adviser. OEA yesterday, Planned Parenthood today — what's tomorrow, Sierra Club? It's clear that the same old revolving door of partisan ideologues is alive and well in Salem."
First of all, that sounds pretty good to me! But second, from my personal experience, while Jeanne Atkins is most certainly principled and progressive, she's also one of the most level-headed voices of reason around.
I'm reminded of the Kipling poem, "If": If you can keep your head when all about you / Are losing theirs..."
That's Jeanne Atkins.