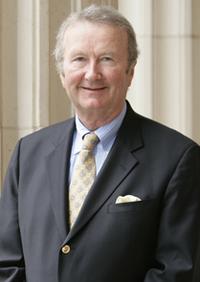 Last night, Dave Frohnmayer passed away. He had been fighting cancer since 2009 -- a battle that was unknown to the public, at his request. From his family's statement:
Dave Frohnmayer passed away quietly in his sleep last night. He was 74. Dave had bravely dealt with his quiet battle against prostate cancer for 5 1/2 years. We are devastated by his passing but we are grateful that his passing was peaceful.

Much of Dave's life was devoted to fighting devastating health crises that enveloped his family. These battles were complicated by the intense public attention that inevitably accompanied his lifelong commitment to public service. He was adamant that his own health issues would remain private. Except for the immediate family and Dave's closest friends, he was able to accomplish this and continue a full public schedule to the end.
Frohnmayer was first elected to the Oregon House in 1974, and served three terms. He was then elected Attorney General in 1980.
In 1990, he was the Republican nominee for Governor of Oregon. He was considered the frontrunner against Barbara Roberts, then the Secretary of State, but his GOP support was undermined by the independent candidacy of right-wing extremist Al Mobley.
After that election, Frohnmayer resigned at the end of 1991 to become the dean of UO's law school. Two years later, he was appointed president of the university.
That 1990 race represents a turning point in Oregon politics. It was arguably the last time that a Republican was considered a favorite for governor in Oregon. And it began a trend that continues today -- the politics required to win a GOP primary in Oregon make it nearly impossible to win a general election as a Republican. The GOP has tried -- nominating right-wingers like Bill Sizemore and Dennis Richardson, and self-proclaimed moderates like Ron Saxton and Chris Dudley.
Frohnmayer's career -- in politics and higher ed -- was not without controversy. But Oregon would be better off if we had more leaders of his caliber, particularly on the Republican side.
Our condolences to his family.