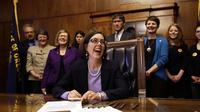 At the mid-point of the legislative session, it should be expected that political activity throughout the state would reach a fever pitch. And this week was no exception. From drones to school funding to 19-year old Reed freshman becoming a libertarian hero. So much was going on, in fact, that instead of writing separate stories on each issue, the following is a list of this past week's political winners and losers in Oregon:
WINNERS
The coalition behind the passage of Oregon's new Motor Voter law- Earlier this week, California Secretary of State Alex Padilla announced his intention to adopt similar legislation that would share DMV information with the Secretary of State's office, automatically registering qualified voters. Padilla said that "millions" of voters could be registered through such a new law in California, which is estimated to have seven million unregistered potential voters. If California becomes the first state to adopt a similar model as Oregon's, such organizations as the Oregon Bus Project, Common Cause, OSPIRG, and others may have created model legislation—at least in regards to expanding voting rights—to be adopted by other statehouses.
Eastern Oregon drone aficionados—Governor Kate Brown's office issued a release announcing a $545,000 state investment to help make Eastern Oregon a premiere testing range for commercial unmanned aerial systems (UAS), also known as drones. In her statement, Gov. Brown writes that the funding provides a chance for the state to lead in an innovative market in helping to develop a new industry. The funding will also provide an economic boom to the Pendleton area in rural Umatilla County.
Proponents of increased education funding—The Democratic majority in the statehouse announced efforts to pass an ambitious $7.25 billion K-12 funding package. Senate President Peter Courtney and House Speaker Tina Kotek released an outline of their education budget plans on Monday, which includes a trigger for more school funding depending on May's revenue forecast. The proposed funding package will "provide funding for every child to attend full-day kindergarten" for the first time in Oregon's history. House and Senate floor votes are expected next week.
Supporters of ethics in state government—During the March 23 episode of Slate Magazine's daily podcast "The Gist," former New York gubernatorial candidate Zephyr Teachout discussed her new book about corruption in American politics with host Mike Pesca, when recent Oregon news made an expected appearance. But not how you think! Said Pesca:
"But if you look at Oregon, one of the most heartening things about the John Kitzhaber thing where his girlfriend got a bunch of consulting money, was that Oregon—and I was following the local media—they kept saying 'This can happen here because we take this seriously. Once you stop saying that, whatever the municipality—we've stopped saying it at the national level, but it's good that a few states still say that, because that is exactly the line between allowing it and it's just, you know, "Game on."
While it might be difficult to consider Oregon a paragon of virtue considering the recent Kitzhaber-Hayes revelations, it could be worse. After all, Oregonians could have Scott Walker for Governor. Or Chris Christie. Or Rick Scott. Funny, all of these governors are able to somehow keep their job—yet it was Gov. Kitzhaber that was forced from his office.
LOSERS
Dan Saltzman-- Is the long-time commissioner still interested in the demands and challenges of serving on Portland's City Council? According to an analysis published earlier this week by OregonLive, so far in the first three months of 2015, Commissioner Saltzman has taken nine days off to accompany three paid holidays. Granted, it's not as if the council is necessarily split on ideological lines, with the Commissioner needing to serve as any sort of tie-breaking vote, but his increased time off led to grumblings in City Hall, with a former city auditor describing the absences as "outrageous." If Saltzman fails to draw a strong challenger in the next election, will it even matter how much time he takes off from work?
Hanna Vaandering—In their efforts to pass the state's school education budget at the earliest pace ever, Senate President Courtney and Speaker Kotek are either ignoring or disregarding the concerns raised by Oregon Education Association Hanna Vaandering, who warns that the $7.25 billion package would not be enough for schools to keep current programs and also implement full-day kindergarten. Vaandering has proposed an amount closer to $7.8 billion would be necessary to accomplish both goals, yet her suggestions that an education package that lawmakers should fully fund current operations before adding further priorities will go unheeded.
Google--State lawmakers passed a bill to help provide the incentives necessary for Google to install its hyperfast Google Fiber Internet service in Portland. However, the final bill passed by the House does just the opposite, with Google pointing out that it creates more uncertainty, making it "unlikely" that the company would pursue significant investment in new fiber infrastructure. As local governments rely on revenue generated from taxes on telecommunication companies' property taxes, they stand lost the most if new language that satisfies Google's concerns cannot be agreed upon.
Jeremiah True—The 19-year old Reed freshman expelled from his lecture for engaging in a disruptive behavior became a cause celebre by libertarian and right-wing media, including Reason and National Review, who celebrated True as some sort of standard-bearer for attacking hypocrisy on college campuses. Initially, True was removed from his Humanity 101 class by an email from professor Pancho Savery—who True describes as "the greatest teacher I've ever had"—for challenging the commonly –accepted statistic that only 1 out of 5 rapes are reported. Savery told the libertarian magazine Reason that it was a series of disruptive events that finally resulted in True getting kicked out of class, opposed to just the one instance regarding rape statistics. Other students told the Reed student paper how True's behavior ranged from apologizing for those who committed the Holocaust to angrily demanding apologies from every white woman in the class. Over the last week, Jeremiah True has become less of a libertarian free-speech champion and more of a real-life Twitter troll.