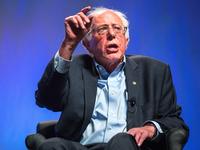 I got my first campaign mailer from the Bernie Sanders campaign today. Here's what it covered:
Jobs
Raising Wages
Wealth and Income Inequality
Reforming Wall Street
Campaign Finance Reform
Reversing Climate Change
Health Care for All
Protecting Our Most Vulnerable
College for All
War and Peace
Being a sharp BlueOregon reader and someone who's seen the stories about Sanders & #BlackLivesMatter activists, you know what word is missing from this list:
Justice.
All of the issues do above impact on justice issues; much of the damage done to non-white, non-male, non-wealthy Americans can be mitigated by the reforms and changes Sanders proposes. No one would argue the incredible difference it would make to a single black mom to be paid a living wage with good health care for her family, able to raise her children and send them to good public schools and then college. There's a massive amount of justice in addressing the issues raised above.
But Sanders can act on those issues in the Senate (and is doing so, vigorously). He's not running for the Senate, however; he's running for President. Not only the most powerful office in the land, but the most symbolic. And Bernie Sanders doesn't seem to understand that part of the campaign.
That failure could doom his chances to defeat Hillary Clinton.
Bill Clinton was not a great President in terms of policy – welfare "reform", DOMA, the health care fiasco, and more – but he did understand the nature of the bully pulpit. "I feel your pain" were not empty words spoken by President Clinton; he meant them. He knew it was vital Americans felt he understood them, that they believed he cared. That sense that "Clinton cares" helped him win two elections. Barack Obama knows this, too, and has worked the symbolic and personal side of being President since he began campaigning in 2007.
Bernie better figure this out fast.
"Black Lives Matter" is not a slogan. It's a demand that the lives of black Americans be given the same value as white Americans. No one is demanding that racists stop being hateful or fearful; that's beyond the scope of a political movement. The demands are more fundamental. Stop executing black people in the name of "law enforcement". Stop shipping black people off to prison at rates matched by no other nation on earth. End institutional practices of racism.
This should be easy for a progressive Democrat, especially one with Sanders' record of action on civil rights. That he seems to be saying nothing along these lines doesn't mean that he doesn't care; I don't believe that for a second. I think it means he's so locked on his message that he can hear no others. A blog post in the Wall Street Journal says he's spent zero on polling (compared to HRC's $900,000). While that's a good sign he's not looking to "triangulate" his message, it can also leave him unaware of what he's missing that voters care about.
How about another word missing from his list above: Immigration. How can he talk about economic issues and not address this? I believe the answer is simple: He hasn't conducted a campaign of this kind before, and he doesn't understand that his words – his symbol-laden words – matter far more than policy proposals.
Few voters care about policy details. That's why poor white voters elect rich white Republicans who make their lives even more miserable. They are voting for the "christian" candidate, or the one who looks like them, the one who shares their (racist) beliefs, etc. I backed Obama early in 2007 because of what he represented, not what he proposed. Howard Dean was not as progressive as Kucinish in 2003, but his campaign felt right to me; I remain a staunch deaniac to this day.
Bernie Sanders has very little time to fix this. He's on the cusp of becoming a true challenger to Hillary Clinton, but if he doesn't demonstrate an authentic understanding of the #BlackLivesMatter movement – and fast – he's going to slip backwards. White progressives like me are excited by his economic message, a message that incorporates a great deal of what justice is about, but if he continues to respond to black activists like those who interupted the Netroots Nations event in the same tone-deaf way, he's toast.
And he should be.
In 2000, Bush, the man folks would rather have a beer with, beat Gore, the man with the qualifications to be President. Bernie's ideas are great, but if voters don't see him as understanding and empathetic, his great ideas won't matter for squat. He has to show, in an authentic way, that he understands the reasons for #BlackLivesMatter. Otherwise, he won't deserve a single vote.