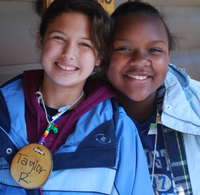 A few years ago, a friend of mine that works with low-income kids in Northeast Portland told me that some of his students had never been as far away as... downtown Portland.
Now imagine the power of Outdoor School for those kids.
Outdoor School changes lives. For generations of sixth-graders in Oregon, Outdoor School has expanded their horizons, put classroom learning in context, created team-building skills, and taught lifelong lessons.
But most of our state's sixth-graders don't attend schools that can afford a full week of Outdoor School. Outdoor School shouldn't just be for kids whose schools or families are wealthy.
In the closing days of the Legislature, a bill is under consideration that would make Outdoor School a reality for every single Oregon student.
Sign the petition and make your voice heard. Tell the Legislature that every Oregon child deserves to attend Outdoor School.