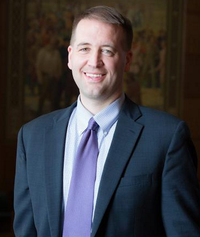 State Representative Tobias Read (D-Beaverton) has announced that he's running for Treasurer in 2016. He's the first candidate in the race to succeed term-limited Treasurer Ted Wheeler.
From his announcement:
Together during the 2015 Legislative Session, we passed "Save Today, Secure Tomorrow." This new law will help Oregonians take control of their financial future by creating a new way to save for retirement. As your State Treasurer, it will be my job to implement the law and see it through.

It's vital that we continue to reform Oregon's outdated investment practices. We started that in the legislature with the Investment Modernization Act, which would increase transparency for Oregon's investment practices and establish protections against excessive Wall Street fees. It hasn't passed the Legislature yet, but together I believe we can get there. As your State Treasurer, I'll be a fierce advocate for this policy.

All Oregonians should have the chance to attend college, but it's often out of reach for many. We passed the innovative Oregon Promise legislation, offering high school graduates in Oregon the chance to attend two years of community college for free. But our state's 529 College Savings Program needs reforming to make it more equitable and fair for low- and medium-income families. As your State Treasurer, I'll make these reforms a priority.

Oregon has a well-earned reputation for taking care of the environment. Climate change has a direct impact on a company's investments and shareholders have a right to know these risks. As your State Treasurer, I will work with businesses and regulators to require disclosure about the serious economic costs that come from investing in carbon.
Learn more at TobiasRead.com. Discuss.