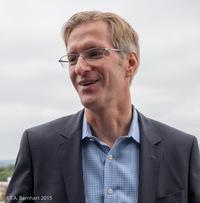 On October 19, 2011, my father died. I received one phone call that day, from Ted Wheeler. Just a few months earlier, Ted's father had died, and he understood what the loss meant to me. He got my number from a friend, and he called me to share my hurt.
This sealed my admiration, and yes, love, for Ted. He moved beyond politician to friend. But even as politician, he'd already won my admiration and support. A few years earlier, when Basic Rights Oregon was working on reversing Measure 36, I attended one of the first house parties that were part of BRO's education program. And in the living room of that house, Ted spoke against M36 and for the rights of all Oregonians with passion and authenticity.
And without notes. Ted Wheeler does not need notes to speak with intelligence and feeling. But he's pretty good at speechifying, as he showed once again this morning when he announced, as he noted, the worst-kept political secret in Oregon – Ted Wheeler is running for Portland Mayor.
I've posted the entire speech online and will be sharing clips over the coming days. But here are my major takeaways from his speech:
As Mayor, he'll put transparency and accountability together at the forefront of any proposed actions. No more secret meetings with lobbyists. No more kicking the can down the road. The work needs to get done, and he'll get it done, in part, by restoring the public's trust in, and support of, city government.
Charlie Hales is a nice guy, but damn. A lot of campaign promises from 2012 have gone unfulfilled.
Progressive is, as I like to say, a verb. A progressive Portland will take care of those in most need. Several of those who spoke before Wheeler told of his commitment, in private life and public, to making life better for those who were experience homelessness, dealing with mental health problems and addiction, who need a decent job.
"No one person can do this job." Ding ding. Are you paying attention, Portland? A Wheeler administration not only will be open about how its doing business and with whom, it wants all citizens to be part of that business. Electing a new mayor and then sitting back to wait for the magic is not democracy. It's a children's tv show (my analogy, not his).
For BlueOregon readers, Ted Wheeler probably needs little introduction. For Portland voters, a different story. His great work at Multnomah County and Treasury are unknown to most voters, so he'll be spending the next six-to-nine months introducing himself and presenting his case to be our next mayor. I'm looking forward to the various forums and debates that will be held; Wheeler will press the incumbent on why he's failed to deliver on his campaign promises and ask the question all Portland voters should ask, as he stated it this morning:
Do we want to hear another politician say "Please give me more time" or do we want to make real progress now?
I'm very biased in this race, but deciding who the best leader for a city, state or nation should be isn't an intellectual exercise. Fortunately, in Ted Wheeler I have a candidate who I think has the strongest chops around in terms of policy. He's often the smartest person in the room, but he doesn't act the part. He prefers to be genuine, whether it's telling voters to expect him to suggest an increase in the gas tax, admonishing do-nothing psuedo-progressives, speaking frankly about his father's struggles with alcohol, or reaching out a comforting arm to someone on a tough day.
Ted Wheeler is running for Mayor. I've been pushing this for months via Facebook, and I couldn't be happier. Charlie Hales is probably bummed. Steve Novick should be ecstastic, even though he won't say so. And Portland voters can smile, knowing they have a candidate of Wheeler's quality stepping up to this challenge. They need to step up, too, if they want this upgrade at City Hall. As Ted said this morning,
Change won't come from one person – it will take all of us. All the resources, the talents, the ideas of this great, diverse, energetic city.