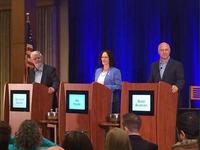 Over the weekend, the race for Secretary of State finally moved into public view, as the three leading Democratic candidates faced off in a debate at the DPO Summit.
Labor Commissioner Brad Avakian, State Senator Richard Devlin, and State Representative Val Hoyle were all on hand. The Bend Bulletin provided a bit of coverage. (I'm working on tracking down video. As soon as I've got it, I'll publish it!)
Attendees at the DPO Summit also had a chance to vote in a very unofficial straw poll. Avakian won with 90 votes, to Hoyle's 61 and Devlin's 16. You can see the full tally of votes here.
And just so we can point and laugh again, I should note that Lane County Commissioner Sid Leiken is running for the Republican nomination.