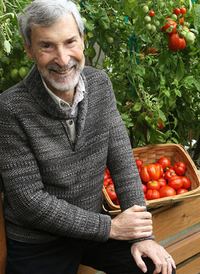 Portland's own Ron Paul has passed away, at the age of 65.
A restaurateur and a raconteur, Ron Paul is perhaps more responsible than anyone for the foodie town that Portland has become. In 1983, after working in restaurants around town, he opened Ron Paul Charcuterie -- Portland's first.
The word "artisanal" had barely cracked our vocabulary, and hardly applied to food. But today? We live in a city so focused on what's local, what's original, what's fresh, what's handcrafted that there's a cable TV show dedicated to lampooning our "artisanal obsessions", as the Boston Globe put it.
And much of that credit goes to Ron Paul. Would there have been a Pok Pok without Ron Paul Charcuterie? Probably not. Just today, the Washington Post named Portland the #1 food city in America.
Of course, he was much more than a chef and a caterer. He was always a progressive, using social responsible business practices (like covering health care -- a rarity in the food industry). And he became engaged in local politics, serving in the late 90s on a committee that would oppose freeway expansion and champion light rail.
It wasn't long after he closed the restaurant that he became the chief of staff to City Commissioner Charlie Hales. After Hales resigned in 2002, Paul dedicated himself to building support for the James Beard Public Market.
When the JBPM breaks ground in 2018 and opens soon thereafter, it will be a testament to Ron Paul's vision and love of Portland. I'm sad that Ron won't be here to see it, but I'm hopeful that his successors find a way to honor him and his legacy.
Rest in peace, Ron Paul.
Learn more about Ron Paul in this great profile in 1859.