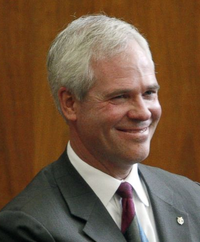 Vance Day is a former chair of the Oregon Republican Party. He's also a Marion County circuit judge.
Yesterday, the Oregon Commission on Judicial Fitness recommended that the state Supreme Court remove him from office.
Why? Well, for starters, it's his refusal to conduct marriages for same-sex couples. For judges, it's OK to refuse to do all marriages, but it's not OK to direct your staff to investigate the sexuality of applicants and then tell same-sex applicants that your calendar is full.
But there's so much more, as reported by the O's Aimee Green. This guy really is a gem:
Among other problems with boundaries, the commission said that the judge hired defendants he was overseeing on probation to help with home projects for himself and his family.

The commission also said that Day "relentlessly" texted and sent personal photos to a felon who was on probation, even though the felon was trying to avoid a personal relationship with Day. ...

What's more, the commission found that after Day's son was hurt during a Chemeketa Community College soccer game in 2012, Day shoved "his judicial business card at a soccer referee" to intimidate the referee because Day was mad at him for a call he'd made before his son's injury.

Day also allowed a felon to handle a gun -- despite knowing that was illegal -- so the man could help Day's son prepare for his entry into the military, the commission said.
Of course, this is the same guy who called the Woodburn bank bomber "very pro-American".
He's a peach, ain't he?