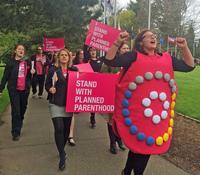 By Gnora Gumanow. Gnora is a Field Organizer for Planned Parenthood Advocates of Oregon. To get involved, visit PPAOregon.org.
The 2016 presidential race has already seen women's health and reproductive justice become touchstone issues. Every single GOP candidate recklessly pushes radical policies that would block patients from accessing care at Planned Parenthood, cut insurance coverage of birth control and ban abortion. The Republican field is the most extreme we've seen in my lifetime.
While every Democratic candidate supports reproductive rights, Hillary Clinton is the only one who has been a steadfast, outspoken and effective champion. She hasn't just defended reproductive rights and health — she's made expanding rights and access to health care a driving force of her political record. As Senator, Clinton introduced eight pieces of legislation with the clear purpose of expanding and protecting women's access to reproductive health care — more than any other presidential candidate ever. She's clear that women's rights are human rights — and that reproductive health care is fundamental to ensuring economic growth and opportunity for everyone in this country.
Even here in Oregon, extremist Republicans are trying to score political points by exploiting the recent fraudulent smear campaign against Planned Parenthood. Just this year, Planned Parenthood Advocates of Oregon helped to block legislation that would have funneled taxpayer dollars toward unregulated, anti-abortion fake medical clinics that threaten public health by providing misleading or false information about reproductive health care. We're also bracing for a dangerous ballot measure that would obstruct access to safe, legal abortion for low-income women.
All of these issues have a huge impact on thousands of people in Oregon — and they are energized to vote. More than 72,000 women, men and young people in Oregon rely on Planned Parenthood for essential reproductive health care.
Planned Parenthood Advocates of Oregon is channeling this energy into the 2016 election. To empower all women, we need a President who will not only protect access to reproductive health care, but will prioritize it. That is why Planned Parenthood Action Fund endorses Hillary Clinton. No other presidential contender in our nation's history has such a clear record of improving women's health and reproductive rights. Clinton has helped move the country forward on these issues — as First Lady, as Senator, as Secretary of State — and she will keep moving us forward as President.
Make no mistake about it: Reproductive health and rights will be a deciding issue in this election.
Thousands of people across Oregon — particularly young women and men, low-income women, the LGBT community and communities of color — know that our right to decide whether and when to become a parent is at stake. We're the voters who are hit the hardest by these recent attacks on Planned Parenthood. And we're the ones who will ensure we put Hillary Clinton, a champion for reproductive rights, in the White House.