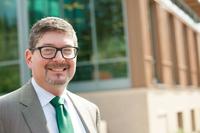 By Brian Wilson. Brian is a candidate for Multnomah County Commission, District 1.
I have lived and worked in Portland my entire life. I've seen the region grow and change over the years, but we have still managed to keep Portland a great place to live and raise a family. The region is growing rapidly though, and at a pace that is putting an enormous strain on the resources that support our much sought after livability. Nowhere is this more evident than at Multnomah County, which manages the human side of local government — mental health services, veterans' services, and public health and safety. I am running for office because I believe we need my unique combination of experience cultivated over decades in business, non-profit and government on the County Board to help manage this growth. I want to ensure that all Portlanders - whether they came here five generations ago like my family or five minutes ago like one of our New Economy workers - feel welcome and connected to the community.
Over the past three years I've walked from one end of District One to the other. I've met my neighbors on both sides of the river, listened to other local business owners, and learned about the dozens of non-profit arts and social service organizations that stitch our community together. I've come to understand that although we are a community of diverse points of view most of us share similar concerns about important issues like housing affordability, homelessness, and public safety. Each of these and more are important policy areas I've worked on for decades.
Housing Affordability
With rents rising 14% year-over-year and housing prices rising to levels unaffordable to most families, we must build more housing for people of all income levels. As a former Portland Housing Commissioner, I have extensive knowledge and firsthand experience when it comes to this issue. We need higher density near employment centers, commercial corridors, and transit. We also have a large inventory of former industrial land within Portland that with minimal public investment could be cleaned up and safely developed for housing. All of this can be done without expanding our cherished urban growth boundary.
Homelessness
We all want a meaningful and lasting approach to deal with the terrible homeless crisis impacting our city. In my research and in consultation with homeless advocates, I've learned that we should examine models that are working well in other cities. San Antonio, for example, launched a program that within six months reduced the homeless count on their streets by 80%. Portland isn't San Antonio, but there are likely things we can learn from looking at their successes. The goal is to cut the expensive cost of managing crises in jails or emergency rooms, and put any savings into building housing in support of wrap-around services to stabilize people in place once they've transitioned off the streets.
Crime & Public Safety
Part of maintaining the livability of our community is getting a handle on rising drug and human trafficking in our region. If we're going to help those most vulnerable to drug addictions and afflictions, getting methamphetamines and opioids off the streets is imperative. All the departments in the county with a role in public health and safety need to be mobilized. We have to maintain and improve support for important task forces specializing in both understanding these crises and providing logistical and financial support to combat them. Lastly, we are a compassionate community. Investing in better outcomes is absolutely the right course for the county to embrace. I've worked for decades on these issues as a volunteer and believe I have the right skills to forge even better partnerships between the County, city, and the non-profit agencies both rely on.
At a time of unprecedented growth in our region, we need experienced leaders at the County who can work together and get things done, not get bogged down in business as usual. I have a history of bringing people together to work on difficult problems and seeing projects through to completion that comes from being on the Portland Housing Commission, Library Board, and Sellwood Bridge Task Force. This experience has given me essential insight into how to get things done on time and within budget constraints and despite changes in political administration. Collaborative. Forward-looking. Dynamic. Experienced. These are just some of the words used to describe my leadership style and qualities I believe we desperately need on the Multnomah County Board.