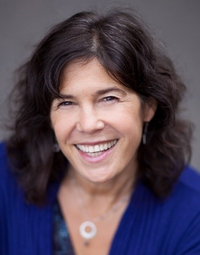 By Dr. Sharon Meieran of Portland, Oregon. Sharon is an emergency room physician at Kaiser Permanente and Medical Director at Oregon Foundation for Reproductive Health. Sharon is a candidate for Multnomah County Commission, District 1. Learn more at VoteSharon.com.
I am running for Multnomah County Commission for the same reasons I work as an ER doctor and community health advocate - to ensure that all people in our community, especially those who are most vulnerable and underserved, have the opportunity to be safe, healthy and live with dignity.
Multnomah County is one of the largest public health providers in the state, yet no one on the County Commission has experience in providing direct healthcare. Every day in the ER I care for individuals and families in crisis, but too often I cannot address their true underlying problems - homelessness, unmet mental health needs, addictions, domestic violence, poverty, immigration status and more. As County Commissioner, I will use my direct experience to inform policy decisions, and ensure that we are using our limited dollars to effectively help the most people.
Housing
To address any of the issues we face as a County, we must first invest in housing. No one can get or keep a job, take care of their physical or mental health, get off drugs, or adequately support their family unless they have a stable and safe place to live. There is no simple fix to this complex issue, but the real key is how we engage in the process. Multnomah County Chair Deborah Kafoury has been a leader in bringing diverse groups together, forging partnerships to address underlying causes of homelessness, and making investments we need at the front end to address the housing crisis. I will support her in these efforts.
Mental Health Care
With regard to mental health care, one in five people is directly affected by mental illness, and the cost, both in human and financial terms, is devastating. We have a system that too often relies on people getting into crisis before they can receive help, and once in crisis, the system often traumatizes people further by putting them in jail or the ER. As Commissioner, I will convene, engage and partner with peer groups, people with lived experience, nonprofits, healthcare organizations and others to ensure systems are working in concert. We need to identify barriers and provide services where there are gaps. We need to connect mental healthcare, housing and the range of services people need to lead meaningful lives. I have the experience and leadership to take on this issue starting my first days in office.
Criminal Justice Reform
Finally, as a County, we are spending too much of our resources on jail beds. We need to keep people out of the courts and jail in the first place, starting with investments in programs and services for children and families most at-risk. We then need a spectrum of services available, including jail diversion and drug treatment programs, mental health services, and supportive and transitional housing. We also need to reinforce our system of re-entry into society for people getting out of jail. And as an essential component of criminal justice reform, we need to directly address the tremendous racial inequities that exist along the continuum of our criminal justice system. To start we must hold the Sheriff accountable. We then must have an open process, engaging people and communities affected by racial injustice in crafting the path forward.
Policy and Governance
What sets me apart in this race are my background, expertise and approach to problem-solving. Working on the front-line I see how well-meaning policies often fail or have unintended consequences, and people who are the most vulnerable fall through the cracks. I have used my direct front-line experience to then affect systems change. I have been a leader in addressing the prescription opioid epidemic; coordinating care for the most vulnerable members of our community; improving our system of mental health care; and working to reduce rates of unintended pregnancy, a root cause of intergenerational cycles of poverty. The hallmarks of my advocacy and policy work have been engaging community, treating people with compassion and respect, and truly listening to what others have to say.
My work and approach have earned me the endorsements of County Chair Kafoury, who values having someone with my real-world experience informing policy decisions, and Congressman Earl Blumenauer, who appreciates my use of direct experience to inform and impact policy change in mental health care and prescription opioid abuse. In addition, I am the sole endorsee of NARAL Pro-Choice Oregon, which recognizes my extensive work in ensuring access to the full spectrum of reproductive health care for all women.
In the ER I have honed my triage skills to find ways to use limited time and resources to achieve the best outcomes, and I will use this skill at the County. As a former lawyer and children's advocate, I have a broad background that goes beyond healthcare. As County Commissioner I will ask hard questions, and I will make difficult decisions. But I will always make smart and thoughtful decisions to ensure that we achieve a more coordinated, just, integrated and effective system that will truly help the most people.