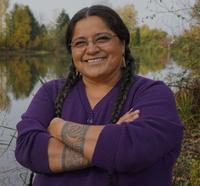 By Stephen Quirke of Portland, OR. Stephen is a journalist and community activist. He is a contributing writer at Street Roots newspaper, and has previously worked for Portland-based Neighbors for Clean Air and Bark-- Defenders of Mt. Hood National Forest.
North Portland voters are about to choose their next democratic legislator for the hotly contested District 43. Their choice is between two highly qualified women of color – Tawna Sanchez, and Roberta Phillip-Roberts.
Sanchez is a social worker with deep roots in the community, and if she is the winner on Tuesday, she will become the first Native American Portland sends to the Oregon legislature, and the second ever elected in the state's history.
Sanchez has a long track record of advocating for North Portland families. In February she spoke out at a Tubman Middle School meeting to demand that state agencies act to protect Portland's air quality, asking pointedly, "There are regulations in place, are there not?.... I'm pretty sure everyone has known for many, many years that arsenic is a dangerous thing."
Earlier that month, research on tree moss demonstrated that the air surrounding Tubman contained dangerous levels of carcinogenic cadmium, and that the Native American Youth and Family Center is being exposed to high levels of arsenic. "The moss is gonna tell you the truth," says Sanchez. "The earth will tell you what's going wrong if there's a problem – and it has."
Last month Sanchez was joined at a campaign fundraiser by the internationally renowned writer, speaker and environmental activist Winona LaDuke. There, LaDuke told how she and Sanchez first met as activists with the American Indian Movement, and shared stories about her current campaign for tribal council in Minnesota. If elected this year, it will be the first time either has won public office – moving decades of effective advocacy and activism into institutional power.
Sanchez is known for her work with the Native American Youth and Family Center – a social service organization founded by volunteers in 1974. Sanchez began at NAYA as a youth, and when it turned into a non-profit in 1994, she became its second employee. She would later found their "Healing Circles" program, which is nationally recognized for preventing and disrupting domestic violence. Today she is both Director of Family Services and Interim Executive Director at NAYA, which employs 120 people on an annual budget of $10 million, serving both native and non-native families with health education, housing assistance, and job training.
Over her 19 years of service at NAYA Sanchez has become a respected leader in child welfare and foster care, serving on both the Oregon Family Services Review Commission and on a Regional Oregon Child Welfare Advisory Commission under the Department of Human Services. During this same period she has managed to raise 18 foster kids. When asked where she found so much energy, Sanchez responded "That's just the way I was raised – to be of service," adding "Who are we but part of our own community, and part of the people that we serve?"
If elected, Sanchez says one of her major priorities will be to fix the state's foster care system. Both black and Native children are placed in foster care at far higher rates than white children, and state authorities say this is not due to more abuse in those communities. According to a 2011 report from the Coalition of Communities of Color, 22% of native children in Multnomah County are taken from their families – a rate 20 times higher than white children.
NAYA itself was originally founded to educate and serve Native Americans in the aftermath of the government's "termination" policy, which started in Oregon after timber companies decided to take forest land belonging to the Klamath tribe – a crime they legalized in 1954.
Termination deprived native peoples of their traditional sources of land, food and community. The displacement led to social crisis, and was also the occasion for resistance. The American Indian Movement emerged alongside the Civil Rights Movement in 1968 to demand self-determination, cultural continuity, and tribal sovereignty, with Northwest tribal leaders like Hank Adams marching alongside Martin Luther King Jr. during the Poor People's Campaign. Organizations like NAYA sprung up in the same era, with volunteers teaching literacy and providing basic social services to displaced families.
Sanchez returned to NAYA after benefiting from it as a youth, and has remained there returning the gift to thousands of Portland families. As a tireless community advocate who has fought hard for women and families, she would make an outstanding representative for North Portland.
Correction: Since the article was published I've learned that Tawna Sanchez is actually #2 -- the first was Jackie Taylor, a member of the Citizen Potawatomi Nation. According to an archive at WIN-PAC, she was elected to the state legislature in 1990. She passed away in 2008.