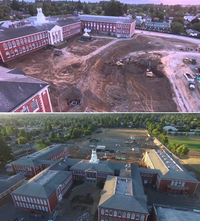 All around Portland, schools are being upgraded, repaired, and having entire new buildings added. Local voters agreed to spend nearly half-a-billion dollars in 2013 to repair and improve our kids' schools, and if you think that's a good thing, you can thank Mary Schutten. A lot of people worked hard for that victory, but Mary was the campaign manager who made sure the campaign strategy was a success.
I'm still not sure why she isn't better known for this incredible accomplishment, not just leading a winning effort but one that garnered a 65% "Yes" vote. She isn't a political pro of the sort who get paid tens of thousands of dollars to help a candidate lose elections badly; she's pretty much just a grassroots activists who has volunteered for numerous campaigns over the years. But she's also a grassroots activist who can win big victories.
She got the right start in life, the daughter of a union mom. She played tennis at UW, the first generation of women to benefit under Title IX, a right she's never taken for granted. She raised three kids. She's taken care of her family. She met her life partner, Cat, with whom she's been together over 21 years. Today, she's an instructor at PCC helping small business owners develop skills to succeed. And she continues to be an activist for Democratic and progressive causes.
I am supporting Mary's bid to become a delegate to the national convention in Philadelphia, and I can think of no one more deserving of this honor. In fact, I'm the person who suggested that she run. I explained how the process works and how I've seen people succeed at past nominating conventions. I gave Mary a little nudge in the process, and, boy howdy, she's gone full-Schutten on it.
But that's Mary. When she takes on a project, she is all-in, whether it's family, friends, or community. She commits herself heart and soul – and mind. She's as smart as she is driven. I don't want to give away any state secrets, but I am blown away at the work she's done to become a Clinton delegate to the DNC. I cannot imagine any other would-be delegate putting in the kind of effort I've seen from Mary. No wonder the PPS bond passed so handily.
For all her long years of commitment to progressive causes, the 2016 Clinton campaign, I think, means more to Mary than anything else she's done. The reason the DNC convention came up in the first place is because she asked my help to start her own Hillary grassroots effort last year; she was not willing to wait for the campaign to show and start. She wanted to go now, so that's what she did. She's supported local candidates, especially women, for years. Recently, that includes Deb Kafoury, Eileen Brady (where we met back in 2012), Tawna Sanchez, and others. Nothing compares, however, to the work she's done for Hillary Clinton, both in 2008 and this year.
I am confident that no other candidate for delegate has gone to Iowa, Washington, and Idaho to work for Hillary. Next week, she's going down to California to help with get out the vote efforts. Mary is not a person to say "I support so-and-so"; she crafts the space in her busy life to give real support – time, sweat, money.
And with Clinton having all but sewn up the nomination (sorry Berners, but you can't deny math), Mary's work has just begun. Oregon will go for Clinton in November; it will take the necessary work, of course, but we are a solid blue state these days. Mary will work hard to win our state, and to help down-ballot candidates, but I'm expecting she's going to put in a lot of work to help out in swing states. (It's amazing how much a person in Oregon with a computer and cell phone can do to help a campaign in Wisconsin.)
Give Hillary Clinton a thousand Mary Schuttens, and she'd sweep this election by twenty points.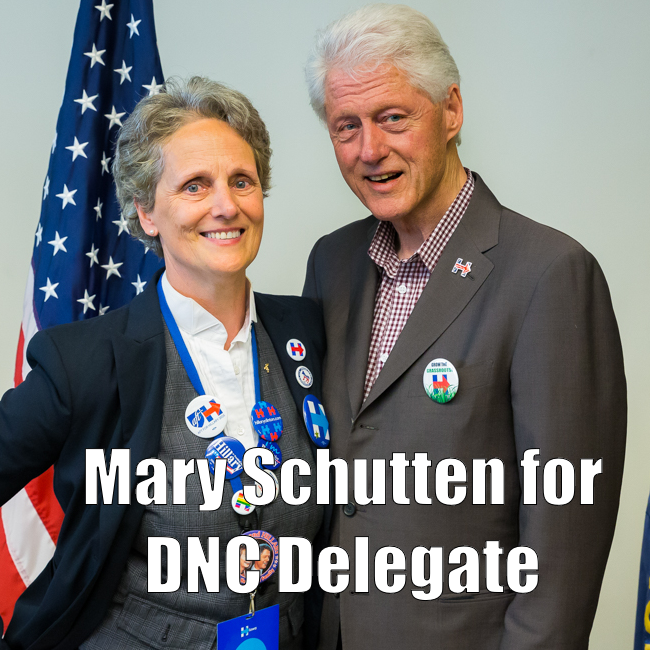 I'm not supporting Mary to become a delegate because I'm a big Clinton fan myself; I'm not, and Mary knows that. I'm supporting Mary because I know few people who are as good a person as Mary. Her proven commitment to candidates and causes is a manifestation of the person she is. As we've worked together on various projects the past few years – we got "The Abigail Bridge" as one of four finalists for the new light rail bridge; her idea and my writing – I've learned some important lessons. No lesson for me has been more valuable than this:
Be a good person.
Politics is infamous for bringing out the worst in people. Social media makes being your lesser self easy to accomplish. But Mary's had that kind of impact on me. (I also have to note Beth Crane, Eileen Brady and Brian Rohter as good people who have echoed what Mary's talked to me about in private; good people trying to help me become a better person.) I am a better person today than I was when I first met her. In fact, because of her friendship and occasional admonishments, I've been able to move past the sturm und drang of the primary election to a point where I'm no longer engaging in pointless back-and-forths. (Ok, rarely engaging.) I don't want to disappoint Mary. I want to be the person she values as her friend.
No, friendship and a good personal example are not a reason you should come to Gresham High School on Saturday to vote for Mary Schutten to be a Clinton delegate to the national convention. But when you combine her years of political activism, her commitment to her beliefs, and the quality of person she is, you have an Oregonian we can all be proud to have represent us in Philly. If you're signed up to support Clinton delegates, please put Mary at the top of your list.
What: Nominating convention to select delegates for the Dem Convention in Philly
Why: Mary Schutten for Clinton Delegate at the DNC
When: Saturday, June 4, Noon
Where: Gresham High School
Who: Dems who signed up to be voters at this convention