By Margot Black of Portland, Oregon. Margot is a mother of three, college mathematics instructor, and an organizer with Portland Tenants United.
Portland's political establishment is reeling. Chloe Eudaly's "most stunning City Council upset in three decades", wasn't supposed to happen; an incumbent hadn't been unseated since Bud Clark in 1992. Since that time, Portland's well-oiled political machine of monied power brokers have effectively developed a calculated protocol that has prevented such upsets. The city's kingmakers assumed they had nothing to worry about, and they lined up behind incumbent Steve Novick. But they were wrong.
In May, Chloe eked out a nail-biting 11th hour victory to earn a spot in the run off. But come November, it wasn't even a close call: Novick conceded to Chloe by 8:09 PM on election night, ultimately losing by almost 10 points. So what does this mean?
Some, including Novick himself, have attributed Chloe's victory exclusively to Novick's unpopularity with the voters after missteps early in his term. But this analysis is deeply flawed and misses the deeper lessons of the election.
To put Eudaly's win squarely on the back of dissatisfaction with Novick is to make broad and unfounded assumptions about the 2016 voters and their motivations. It assumes that whether those filling out a ballot for the first time or seasoned members of the electorate, voters necessarily require stronger reason to vote against the incumbent than to vote for their opponent. It assumes voters care as much or more about potholes as they do about paying the rent. It assumes the electorate observes or understands or cares about how elected leaders navigate the opaque local political terrain to address said potholes, and that they were more motivated by voting against Novick, than for Chloe. In short, attributing Chloe's victory disproportionately to Novick's street-fee blunder is to deliberately ignore the real reason for her victory.
Voters weren't looking for establishment experience to address the issues that the establishment themselves created and perpetuated. Instead, they were searching for a champion — someone who recognized and understood their struggles, and who would assign these struggles their proper urgency, rather than take hefty campaign donations from those interested in dismissing their struggles. Chloe was one of these voters, she knew their struggle, she was running for office to fight for them rather than to pay status quo lip service to their pleas for meaningful action.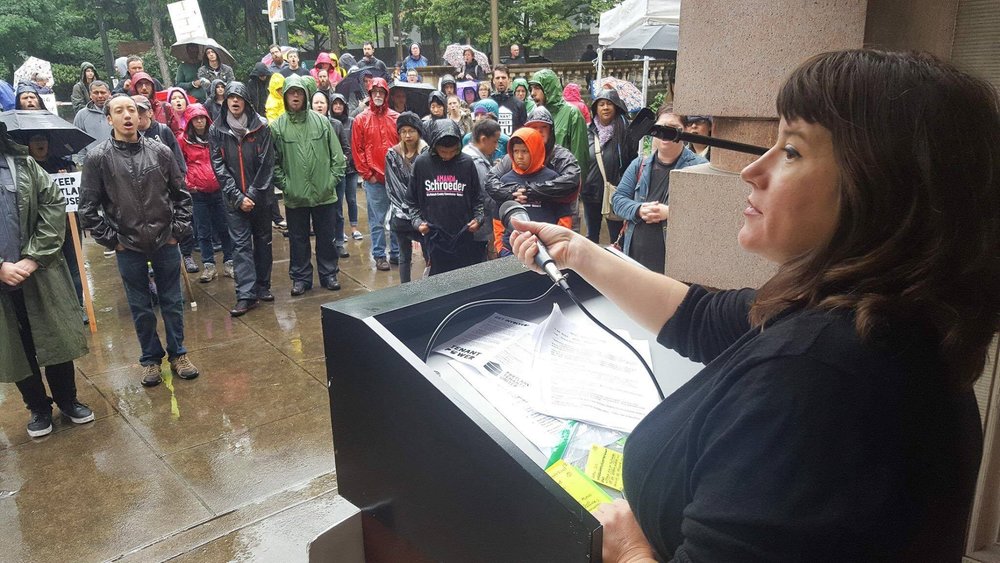 She aligned her sails uncompromisingly to the powerful winds of the housing crisis; a crisis she and her friends and neighbors across every demographic and neighborhood were all experiencing — ever more so as city council only appeared to fall more deeply asleep as it unfolded in front of them. It was this strategy, a sincere commitment to a populist message from a candidate of the people, not her opponent's past mistakes, that won her a landslide victory.
Chloe's signature piece of campaign literature wasn't a 4-color glossy mailer with milquetoast quotes from well-heeled endorsers. Instead, she commissioned a comic called the 'The Rent Crisis', drawn by renowned graphic artist Joe Sacco. The comic told the true story of a day Chloe spent talking to other Portland renters about their housing crisis experiences. It was distributed to tens of thousands of homes and apartment complexes all over Portland, mostly in deep southeast, by a dedicated troupe of canvassers, many who only got involved in their first political campaign after receiving their own copy of the comic on their door.
Unlike most traditional campaigns, Chloe's team didn't pay for addresses of likely voters. Instead, they targeted the disenfranchised and disillusioned, those who probably don't show up on those paid lists because they are probably disregarded as unlikely voters. Certainly they are unlikely donors; there's not much money left over to donate to political campaigns for those trying to pay the rent on a minimum wage job. Indeed, the Willamette Week reports that Novick himself admitted to City Council that " he needed more of a financial incentive to talk to regular voters, acknowledging he spent most of his time fundraising among homeowners who could write big checks because it wasn't worth his time to collect small checks from renters." And accordingly, her grassroots campaign was outspent by five to one — another nail in the coffin for those on the inside who praised her campaign as "gutsy", but ultimately, unworthy of their support. For those who had never had a compelling reason to vote or pay attention to local politics, those who have only ever felt overlooked and minimized, those most afflicted by the housing crisis, Chloe sent a clear and sincere message that she felt their pain and was committed to addressing it with bold and urgent action. And so, the voters delivered her a mandate to do so.
Any renter who received that inspiring and provocative comic very likely voted for Eudaly; and in fact she won nearly every neighborhood in apartment-heavy outer-east Portland (east of 60th ave); neighborhoods that are typically written off by political strategists. These are not the voters who were carefully scrutinizing Novick's performance in office over the last 4 years. These are voters who are much more worried about paying the rent than pot-holes.
Over 50% of Portlanders — projected to be 60% by the 2020 census— rent their home. And these renters, as well as older homeowners worried that their adult children and elderly parents can't afford to live in this city, and those concerned about their neighbors being replaced by AirBnB tourists, and everyone else feeling deeply unsatisfied with City Council's anemic response to the sea of tent cities, waves of displacement and impoverishing $500 rent increases, have spoken loud and clear in this election.
At the end of the day, the City of Portland was more eager to elect a candidate who championed urgent, thorough, and powerful action rather than business as usual. Because business as usual obviously isn't working, Portlanders were eager to fill in the bubble for a candidate untouched by special interest donors, one who had not been groomed to avoid bold ideas in lest they alienate the donor-class.
Chloe did get her fair share of endorsements, indeed, the Willamette Week and Portland Mercury both endorsed her largely because she was the "housing candidate", and presented a promising opportunity to rouse the council who seemed only to push their fingers deeper into their ears as council chambers filled with renters demanding urgent action. Where her opponent looked for reasons not to act, Eudaly warned of the dangers of doing nothing.
Chloe was an early endorser and champion of Portland Tenants United's 'Keep Portland Housed' campaign, which demands an emergency rent freeze — that is, freezing rents at their current levels — and a moratorium on no-cause evictions until sustainable and robust policies aligned with a 'Tenants Bill of Rights' are enacted. The rent freeze and moratorium, considered a form of "rent control", would be allowed under state law by virtue of ORS 91.225(5), which grants cities the power to enact rent control in times of of natural or manmade emergencies which "materially eliminate" rental housing supply. Indeed, evictions and rent increases during a housing crisis in which supply nowhere near meets demand, effectively materially eliminates housing in the city of Portland for low and even middle income Portlanders.
Mayor-elect Ted Wheeler championed tenants rights during his campaign. In fact, the Tenants Bill of Rights was a collaborative effort between Wheeler's campaign and organizers from Portland Tenants United. But he badly miscalculated by endorsing Novick, an endorsement that was unaligned with Wheeler's promise to champion tenants rights. To his credit, Novick understood the meaning of primary results and started paying attention to tenants issues after being forced into the primary by Eudaly, but ultimately failed to take action beyond expressing support for 'relocation expenses' at the October 21st debate — a policy component of the Tenants Bill of Rights that could be implemented immediately.

The other commissioners who endorsed Novick or refused to endorse Eudaly likewise have egg on their face. They can make amends by acknowledging the mandate of Chloe's victory and rolling up their sleeves to help her achieve her goals. Anything short of enthusiastic cooperation from her colleagues on protecting Portland's renters from retaliation, intimidation, discrimination, no-cause evictions, and monthly rent increases that could finance a BMW, will be remembered by voters who are expecting their representation from their elected representatives. As Steven Demarest, president of SEIU 503, said at a November 18th press conference, the message Chloe's City Council colleagues need to take from her election is that if they don't assign this housing crises the proper urgency, "they can be replaced".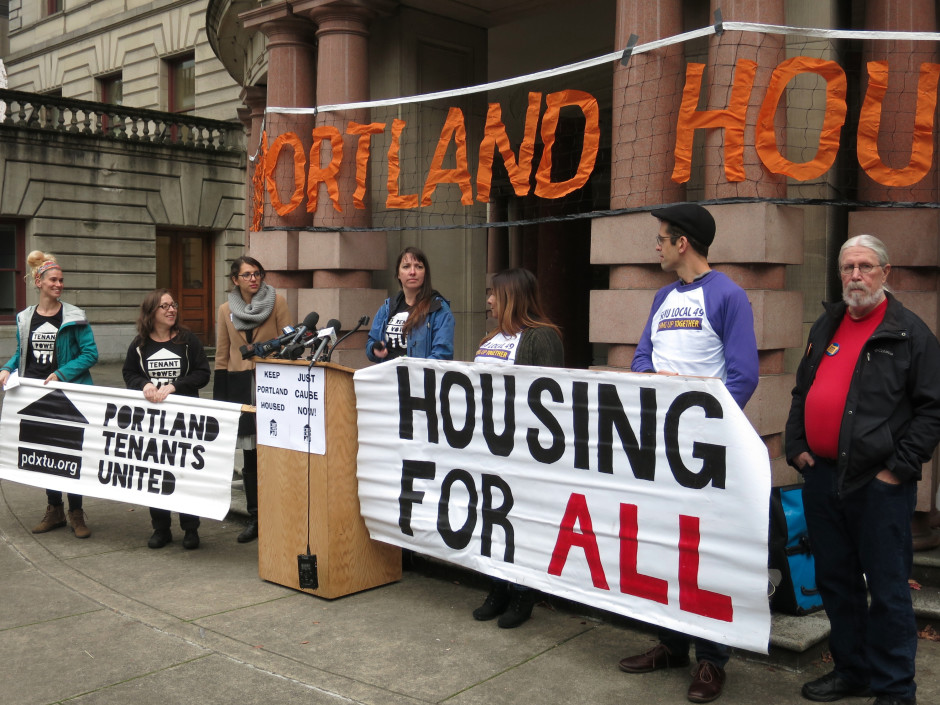 Chloe Eudaly's campaign was a blueprint that can be copied by others seeking to mobilize popular sentiment against politicians whose inaction continues to fuel the housing crisis. Portland Tenants United will help mobilize to ensure that Eudaly's housing vision is realized, and to ensure that any barrier put up by her new colleagues is under the microscope. The time to boldly address the rent crisis is now.