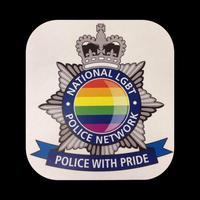 In an 11th hour controversy, NW Pride Director Debra Porta asked Portland Police and Sheriff Deputies planning to march in this weekend's Pride parade to do so not wearing the uniform. Porta reported that the Northwest Pride Board was prompted to take the action by community members who'd had issues with police:
"...We have two things true at once..." said Porta in a letter to Portland Police and Multnomah Sheriff's Office, "LGBTQ people have made tremendous strides, in being able to serve in law enforcement as out individuals AND we have a great many in our community still traumatized and targeted by law enforcement, as a whole. Given both of these things, we at Pride Northwest, as the entity entrusted to represent and honor ALL of our community, find ourselves caught in the middle. We have been approached by many in our community, who don't feel safe at their own Pride, with a great many planning not to participate at all."
Porta, the long-time leader in one of the hardest jobs in our LGBT community, rightly recognized the Board's untenable position - no matter what was said or decided, there were folks who were going to be pissed and hurt. Porta tried to thread the needle; while asking law enforcement to bag the uniforms, she also promised that no cop would be turned away, and later emphasized that the no-uniform thing was simply a suggestion.
But the effort to make the ask more kindly and gentle fell flat. Multnomah Sheriff's Office pulled out of the parade, other than assigned details, and individual Portland LGBT police officers responded with predictable hurt.
"To have my own gay community tell me to hide a part of who I am seems to be against everything they stand for,'' said Lt. Tashia Hager of PPB in a recent OregonLive article.
Hager is absolutely right. PRIDE isn't simply about who we innately are, but what we have chosen to become. More importantly, Pride is an opportunity to tell the world how, through our individual lives and efforts, we change the constructs and old ways of institutions. LGBT people, in facing our individual struggles, have learned how to be progressive catalysts in every kind of societal enclave.
It is precisely those proud LGBT officers that will lead police agencies away from the systemic "otherism" which is the template for bad practices and dangerous attitudes.
The proud lesbian officer, the gay cop of color, the transgender captain - unafraid to proclaim who they are or what they do - should be beside all of our community in both celebration and in crisis. They are positioned to be the change-agents law enforcement so desperately needs within its own ranks.
And for those in our community who are fearful and distrustful of all police, Pride is an opportunity to see that the policing community is not a monolith, but an institution that can become a greater and more positive community organization BECAUSE of these LGBT officers who walk with us.