Without action on the Jordan Cove Project, Governor Brown's climate grandstanding is little more than an attempt to win environmental credibility without having to make a hard decision that might cost her some political points with large corporate donors and the building and construction trades. The climate doesn't care about the politics of triangulation, horse-trading, or campaign contributions.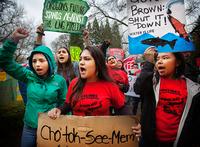 Submitted by Sarah Westover, a Jackson County resident and No LNG Campaign Organizer at Rogue Climate, and Nicholas Caleb, born and raised in Klamath Falls and the staff attorney at the Center for Sustainable Economy.
The climate movement in Oregon has achieved incredible things in recent years. We've beaten back environmentally disastrous fossil fuel infrastructure projects, said no to new fossil fuel infrastructure in our communities, persuaded Portland General Electric to suspend plans for dirty fracked gas power plants, sued the federal government for its role in allowing and permitting climate change causing activities, and have started the process of transitioning our cities to a 100% renewable energy powered economy. Despite this progress won by the thousands of Oregon residents deeply engaged in the struggle to protect our state, region, and planet, we still have incredible difficulty getting Oregon Democrats to act on climate with anywhere near the urgency that is required. Even those who deploy some of the strongest rhetoric on climate simply cannot bring themselves to do what is necessary when presented with difficult decisions.
For example, Governor Kate Brown still refuses to take a position on the Jordan Cove fracked gas export terminal and Pacific Connector Pipeline that, if constructed, would become one of the largest sources of climate pollution in the State of Oregon. After two prior attempts were denied by the Federal Energy Regulatory Commission (FERC), this never-ending nightmare of a project is back. This time, it is at the top of Donald Trump's list of carbon-intensive dirty energy projects and will likely be reviewed by Trump's own appointed FERC commissioners, should they be confirmed by the Senate. As someone who has recently claimed to be committed to climate action after President Trump declared the United States would not uphold its obligations under the Paris Accords, Brown's refusal to take a position on one of Trump's top three dirty energy projects is outrageous.
In the wake of the dismal 2017 Oregon legislative session, in which climate policy was completely neglected and the Residential Energy Tax Credit allowed to sunset, the Governor has increasingly deployed strong environmental rhetoric, signaling that she wants to be seen as a climate leader. In June, the Governor went to California for a photo op and speech detailing her commitment to upholding the Paris Accords. Shortly after, she announced she will travel to Germany in November to meet with global leaders about the Paris Accords at this year's United Nations Climate Change Conference. Most recently, she announced her support for the Clean Energy and Jobs Act in the 2018 legislative session (after failing to use her office to push for urgent passage in 2017). These public declarations have been accompanied by social media surveys and fundraising asks (one disguised as a survey of attitudes on environmental protection) declaring that Governor Brown is "leading the way on implementing progressive climate policies" and asking people to "Stand with Governor Kate Brown and demand that our government make protecting the environment a priority."
It is imperative that politicians' strong rhetoric be accompanied by equally strong action. And unlike comprehensive climate policy in Oregon, which requires legislative action (or a very well-designed ballot initiative), the Governor has the direct authority to influence the outcome of the Jordan Cove Project. She just simply does not want to take up the issue because it is politically risky. This continued silence has angered pipeline and terminal opponents in Southern Oregon so much that they interrupted a speech in Medford in April to demand a meeting, resulting in the first meeting impacted community members have been able to obtain with a Democratic governor in the past 12 years.
As Kayla Fennell, Ashland high school student, and Deb Evans, owner of property through which the Pacific Connector Pipeline would be constructed, described in their April 16 guest opinion to the Medford Mail Tribune entitled "Merkley can't have it both ways on LNG":
If approved, Veresen, the Canadian company behind the project, would construct a new pipeline through Southern Oregon to transport natural gas from mostly Canadian "fracked" wells to a liquefaction terminal in Coos Bay. The project would generate over 1,000 new frack wells over the next 20 years.
The 36-inch diameter, 235-mile pipeline would cross public and private lands, requiring 95-foot construction easements and 50-foot permanent easements. The pipeline poses a fire danger, threatens waterways, fragments habitat, devalues private property and threatens tribal territories and cultural resources. The Jordan Cove terminal would be built in a tsunami zone; in addition to affecting wetlands, it would increase tanker traffic and release 1.5 million to 2 million tons of climate pollution each year. The LNG would be exported overseas.
[...]
But newer research is revealing the climate impacts of natural gas operations to be much greater than previously thought, in part because they release methane, a greenhouse gas 86 times more potent than carbon dioxide. One study by Harvard researchers concluded that the oil and gas industry may be emitting nearly five times the methane from the south-central U.S. than previously estimated; when the fracked gas is exported, emissions are actually worse than coal.
In addition to environmental, climate, and seismic risks, the Jordan Cove Project is a direct attack on indigenous peoples. The Klamath Tribes -- whose waterways, fishing rights, artefacts, ancestral burial grounds, and cultural heritage are directly threatened by the Pacific Connector Pipeline -- have formally opposed the Jordan Cove Project along with the Karuk and Yurok Tribes. "We don't want to mess around with the small stuff anymore," Taylor Tupper, public information and news manager for the Klamath Tribes, told the Herald and News on July 21. "We don't want to get to a Standing Rock (the North Dakota pipeline protest that gained national attention last winter). We need to organize now before we have a Standing Rock because we will. If this moves forward, it will happen." Indeed, many of the same elements that were present in South Dakota inform the tribal opposition and conflict seems near-inevitable if Brown and others allow the Jordan Cove Project to move forward.
Governor Brown has the power to influence the outcome of the Jordan Cove Project. Under Oregon's Constitution and state law, the State Land Board has the final say over decisions pertaining to specific state-owned waterway easements for the Jordan Cove and Pacific Connector Pipeline projects. Governor Brown, as a member of the State Land Board, would be one of the two votes needed to reject any permit granted for the Jordan Cove Project.
Equally important is that Oregon's state agencies follow the Governor's lead and her opposition to the project based on climate concerns would certainly inform agency review of the project's required permits. Examples from Oregon, California, New York, and Maryland demonstrate that states can reject LNG proposals even when the federal government approves them. In 2007, the Land Board of the State of California denied the Cabrillo Port LNG facility, citing concerns about safety, damage to migrating whales, air pollution, and climate change. Recently, New York utilized its Clean Water Act § 401 certification authority to deny the fracked gas Constitution Pipeline. Similarly, Maryland denied the Clean Water Act § 401 certification for an LNG terminal and fracked gas pipeline in Sparrow's Point, Maryland. In 2010, Oregon used its § 401 certification authority to deny the Bradwood LNG terminal and fracked gas pipeline, citing potential harm to salmon habitat and water quality.
Indeed, the Natural Gas Political Action Committee understands how important Governor Brown is to this process. Since October of 2015, it has given over $20,000 in campaign contributions to Gov. Brown.
Governor Brown can't have it both ways. She cannot be a climate champion in Oregon, regionally or internationally if she can't even be bothered to take a position on what would become the biggest climate polluting project in her own state, a project that she has the direct power to influence. Without action on the Jordan Cove Project, Governor Brown's climate grandstanding is little more than an attempt to win environmental credibility without having to make a hard decision that might cost her some political points with large corporate donors and the building and construction trades. The climate doesn't care about the politics of triangulation, horse-trading, or campaign contributions.
In Oregon, nothing short of opposing the Jordan Cove Project -- the single biggest fossil fuel infrastructure project proposal in the state and largest construction project, by cost, in state history -- can square Governor Brown's rhetoric with the action needed to meet our climate commitments. If we cap fossil fuel infrastructure, begin to dismantle our existing fossil fuel infrastructure, protect our forests, and dramatically shift to a 100% renewable energy powered economy, then we've got a fighting shot to prevent runaway climate change and build a world worth living in. There's no way we can do it if we allow dirty energy projects like Jordan Cove.