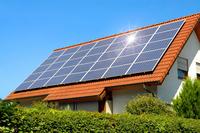 I recently learned that the $6,000 Oregon Tax Credit for installing solar is ending at the end of 2017.
Because switching from fossil fuels to solar energy will help slow climate change + knowing this information will save people money + this feels like the right thing to do = I am encouraging you to take action NOW! If you're ready to go solar or know someone who is - now's the time to act. Contact a solar installation company in your area and get started with the process - here's how it works:
The state tax credit expires at the end of this year. To qualify for the tax credit, you must sign up and make a payment in 2017 and the system must be completed before April 1st 2018.

The federal tax credit is claimed on the tax year in which the system in installed. If your project is finished in 2017, then you get the tax credit on your 2017 tax return. If it's finished in 2018, then the credit is claimed on your 2018 tax return, which is filed in the spring of 2019.
Here's a Benefit Estimator from Energy Trust
Thanks for making the world a better place. Feel free to share this on social media or with any environmental organizations that might find this something they can get behind.