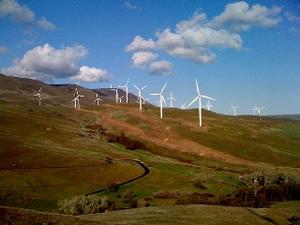 Today is the fortieth anniversary of the first Earth Day, and it seems like each new edition comes with a darker backdrop. In the past couple years, the number of people who believe that climate change is even real has declined sharply; never mind finding the political will to address it head on. For every step we take forward--improved fuel efficiency standards, growth of alternative energy, the rise of organic and local agriculture--we seem to take five backward. We know the glaciers are melting, species are dying, the world's use of carbon-based energy is rising, climate patterns are changing, leaving some regions to desertify while others swim in new swamps. And all the while, political will evaporates.
In the past year, there were good signs: the House managed to pass the Waxman Markey cap-and-trade bill, and the world convened to discuss international action on climate change. But then we have the usual steps backward: Copenhagen ended with a fizzle, and cap-and-trade isn't just dead in the Senate, the term itself has become so unpopular it's been shelved.
The Pacific Northwest stands to be one of America's losers on a warming planet (forest fires, drought, lost fisheries, farms, forests, and ranches), and yet all three major Republican candidates for governor have said they "were not ready to apportion the blame between humans and nature." So here's the question. On this fortieth Earth Day, where should those of us from the reality-based community direct our efforts? What's the future of environmentalism over the next, critical forty years? Are there any bright spots that give you hope?