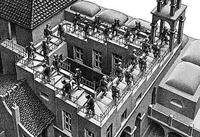 There's a famous drawing by MC Escher that shows a staircase apparently descending, but the bottom end loops around to the original starting place. It looks good, but it doesn't work in the real world. This is an excellent metaphor for what's happening with Oregon's budget, and the current flap about whether to cut physical education in elementary schools to patch the perpetually gaping budget hole serves as a perfect case in point. No one wants to cut PE, and everyone recognizes its benefit. Yet no one wants to raise taxes, either, or cut other programs, so here we come around again to where we started: wanting to keep taxes low but still fund state programs.
The greatest incoherence comes from the right, and I'm going to pick on Chris Dudley for a minute, because his position on this issue is so starkly perverse. As a former professional athlete, it's no surprise he considers PE sacrosanct. Fair enough. But Dudley also thinks the budget is out of control. So now we start descending the stairs:
A state budget that grows 13% every two years (as it has averaged in Oregon the past 20 years) is not only financially unsustainable but is driving the demand for higher taxes – higher taxes that make Oregon less competitive economically and hurt the private sector job growth essential to our quality of life.
Not only does he think we need to reign in spending, but he thinks we need to cut taxes--and so we go further down, down, down:
Chris Dudley believes taxes in Oregon are too high and our tax rates make the state less economically competitive, less attractive to entrepreneurs and start-up businesses and a drag on private sector job growth which is essential to our quality of life.
Of course, these two flights of descending stairs lead to one conclusion, right? We know that, since K-12 occupies by far the largest chunk of the state budget--40%, or 52% when you include all other education spending (see .pdf for numbers)--cutting spending and cutting revenues means cutting school programs like PE. Yet when Dudley arrives at this reality, like the Escher staircase, he tries to bend physics and keep going ahead.
Republicans are the most egregious in using Escherian politics to defer tough decisions. Unfunded wars, unfunded Medicare benefits, unfunded tax cuts. Locally, the patchwork of ballot initiatives tell a similar story--large tax encumbrances on the one hand for prisons, tax measures to reduce revenue on the other. But Democrats aren't blameless. They have failed to call Republicans out on these tactics, and are still spooked by the idea of raising taxes. It is an enormous credit to the Democrats that they managed to get Measures 66 and 67 through, but the political cost for making them permanent--even in the midst of billion dollar shortfalls that stretch out as far as economists can see!--may have been too high.
Which brings us to the voters, perhaps the most culpable of all. Voters want everything. They want PE and music classes and cheap college tuition and good roads and lots of cops and services to take care of the poor, but above all, they want low taxes. They punish politicians who tell them the truth in favor of the Escherians, like Dudley. (Who can forget the famous tea partier holding a sign demanding that the government keep its hands of his Medicare?)
Parents railed for two hours against cutting PE at a public forum. John Canzano, no stranger to sanctimony, echoed their sentiments: "Cut PE? Find another way, people."
Other ways? Sure, raise taxes. But you can't keep taxes low and still hope to keep service levels high. I wonder, though, will voters choose the candidate who tells them the truth, or someone like Chris Dudley, who says they can have PE, better schools, and a tax cut to boot? Why do I fear the latter?