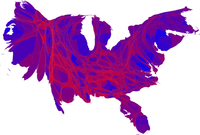 Throughout the reporting on this extremely close election, and in comments here on BlueOregon, we've read that Multnomah County voters delivered the election to Governor Kitzhaber. True enough – to a point.
Kitzhaber wouldn't be headed to Mahonia Hall if not for the 19,000-plus voters in Douglas and Klamath counties who supported him, even as those counties went for Dudley overall. And Chris Dudley got over 74,000 votes in Multnomah County.
In the newspaper, we've seen graphics that portray the state in bright red and blue counties, with no gradations of purple (graphics department: read Edward Tufte). We've heard the Metro race was Portland vs. the suburbs.
While these all hold an element of truth, they hide a greater truth: in every county in Oregon, there are people of all persuasions. There are a whole lot of rural Democrats, and a bunch of urban Republicans, and a hoard of independents.
Choose three average voters in almost any county, and you'll find one supported Kitzhaber, one Dudley, and one was a toss-up.
In the Metro President race, it was even closer. The undervote - those who voted but skipped the race - ran from roughly 30 to 50%. Let's call them three of every eight. Of the five remaining, in each county two people went for Hughes, two went for Stacey, and the fifth vote was a toss-up. Hardly strong evidence that Portland and the suburbs are worlds apart.
But, instead of remembering the two-of-three or seven-of-eight voters in each county who are similar, we focus on the marginal voter who is different.
We do this for several reasons.
First, our elections are winner-takes-all, not proportional representation. Whether the vote is 80 to 20% or 51 to 49%, our elections are about putting a single person in office. Second, elections are conducted by counties, so geographic data are the easiest and most verifiable way of reporting the results. That doesn't excuse using red vs. blue instead of shades of purple on maps, but helps explain why reporting highlights specific counties as opposed to gender, race, age, income, and soforth. Third, the media are tasked with explaining things and making sense of them, and readers and viewers seem to be drawn to contrast and conflict rather than complex shades of gray.
Yet there are compelling reasons to shift how we report and think about the results. When we're reminded of our similarities, we're more likely to succeed in working together. When we think of those who disagree with us as our neighbors instead of far-away strangers, we can have conversations we might not otherwise have.
I urge the news outlets to run some shades-of-purple maps to remind us that despite our differences, voters across the state supported Kitzhaber and Dudley. And I'd urge all of us all to think about how the words describing voters and outcomes could include gradations of agreement, and descriptions other than the county designations that may fuel the urban vs. rural mindset.
While our disagreements in the policies we want may be significant, we share most values. In the end, we're Oregonians who all want the best for our future. Here's to having a beer with the Klamath County Democrat, and the Multnomah County Republican.
MEJ's Newman's graphic from 2008 and its explanation.