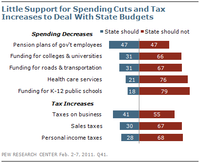 As the legislature gets ever deeper into wrestling with massive shortfalls, it's worth noting how difficult their task is going to be from a PR perspective. Americans are absolutely terrible about prioritizing things, as a new Pew poll illustrates. We'll get to some of the national findings later, but let's have a look at findings on voters' views about state budgets; it's almost comical how irony-averse their responses were.
To set the stage, it's worth mentioning that most states are in terrible shape, not just Oregon. And most states are legally bound to balance the budget--no deficits allowed. In order to do this, of course, they must either raise taxes or cut spending. Guess which they're willing to do?
Do you support decreasing support for these services...?
Funding for K-12 schools: No, 79-18%
Health care services: No, 76-21%
Funding for universities: No, 66-31%
Funding for roads/transportation: No, 67-31%
State employee pensions: Maybe, 47-47%

Do you support raising these taxes...?
Personal Income: No, 55-31%
Sales tax: No, 67-30%
Businesses: No, 68-28%
With the exception of dinging employees on their pensions, voters aren't interested in cutting any services or raising any taxes. This will make the prospect for legislators especially dicey: no matter what they do to balance the budget, it's going to be unpopular. (If there is a possible silver lining for legislators, it's this: when Pew asked respondents how severe they thought their budget problems were, those on the West Coast were enormously more concerned: 62% calling them "very serious." The next closest region was the Middle Atlantic, at 44%.)
Below the jump, I'll mention a few of the national numbers, including the surprising finding about Americans' relationship to the deficit.
Despite the rhetoric on both sides about the need to reduce the deficit, Americans aren't that worried about it. Given four choices, a large plurality of respondents thought jobs were the most serious problem--not surprising. But the second most worrying issue to Americans is rising prices (inexplicably, given how little a problem inflation is). The deficit rates a tepid third-place showing. More amazingly, given a choice of among 17 service areas to cut back on, only on two did more Americans think we should cut back than increase spending (unemployment spending and international aid). If you wonder why Congress is keen to keep spending and never cut back, there's your answer.
In general, the mood of the country is improving. Americans are less morose than they've been in years. Their views about the economy is still bad, but it's heading in the right direction. They are not as negative about the parties or leaders--and Obama remains right-side up on his favorable/unfavs. Weirdly, on this question, "Could the president be doing more to help the economy," Obama's numbers, while bad (39%-56%) are actually better than Bush's at a similar point in his presidency (33%-61%).
You can read the whole report here.