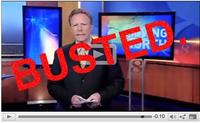 By Scott Moore of Portland, Oregon. Scott is the communications director of Our Oregon and blogs at the Sockeye.
Monday night, KGW ran a terrible, one-sided story claiming that there's an exodus of Oregonians flooding to Washington to avoid paying taxes, specifically from Measures 66 and 67.
Note: This post has been updated below with KGW's correction.
The story had more holes than the plot of a Jerry Bruckheimer movie. Worse, reporter Joe Smith featured interviews with three anti-tax activists and not a single opposing voice. He didn't even bother to call anyone who could have pointed out that his premise was bogus – using hard facts.
Here's just one hard fact debunking just the bogus claims, from the Sockeye:
Bogus Claim: Three thousand more Oregonians have moved to Washington to avoid paying taxes under Measures 66 and 67.

FACT: This "report" is based entirely on unreliable data: driver's license applications. It's true that the Washington Office of Licensing showed an increase in 2010 of people trading in their Oregon driver's licenses for Washington licenses—an increase of 1,332 in Clark County.

But here's the catch: In July 2010, the Washington State Patrol reinstated its License Investigation Unit, which started cracking down on Washington residents who hold out of state (mostly Oregon) licenses in order to avoid paying sales taxes. The data is clear—from July to October (the period when the enforcement began), 2,823 more people than average changed their driver's licenses.

In other words, the data that KGW relied on was the result of a state trooper crackdown on Washington scofflaws, not people moving to Vancouver to avoid taxes. This basic fact refutes all of KGW's reporting.
So where the heck did this story come from? Turns out, anti-tax lobbyist Jason Williams (of the Taxpayers Association of Oregon) had written a blog post earlier in the day about this very subject.
KGW picked it up and ran with it. Nearly verbatim.
Why, it's almost as if Jason Williams himself wrote the KGW story! Let's count the similarities:
| | | |
| --- | --- | --- |
| | Jason Williams | KGW |
| Premise | "Oregonians flock to Washington to avoid tax bite" | "With no income tax and lower home prices, the Evergreen State is becoming a haven for Oregonians rather than paying some of the highest taxes in the country." |
| Primary data source | Washington Department of Licensing's driver's license reports. | Washington Department of Licensing's driver's license reports. |
| Anti-tax activists featured | Jason Williams, Vancouver realtor Mike Lamb, and Eric Fruits | Jason Williams, Vancouver realtor Mike Lamb, and Eric Fruits |
| Closing argument | Measures 66 & 67 led to higher unemployment and people leaving Oregon for Washington | Measures 66 & 67 led to higher unemployment and people leaving Oregon for Washington |
(By the way, employment has actually improved significantly since 2009. Unemployment was at 12.2% in May of 2009. Today, a year after voters approved 66 & 67, we're at 10.4% as we move out of the jobless recovery.)
So, is Jason Williams now on the payroll at KGW, or is he just volunteering his time as news director and writer? What's next? Global warming deniers doing the weather? Auto industry lobbyists doing the traffic?
Note: A few hours after Our Oregon first posted about this story, KGW took down the video of the report and retroactively edited the online version of the story. We've posted the original transcript over at our blog.
---
Update, March 3, 12:48 p.m.: After nearly two days of phone calls and emails from viewers demanding better from their reporting, KGW today issued a sweeping correction and apology for this story.
The correction came personally from News Director Rod Gramer. I strongly recommend you read it in its entirety. It's the most thorough, candid correction I've ever seen from a news outlet. Kudos to Gramer for taking this on personally—and for doing his own reporting in order to tell the whole story. Here's an excerpt:
The story we did this week did not live up to our high standards of balanced, fair and in-depth journalism. The story did not dig deep enough, it relied on anecdotal information from Washington realtors and, most serious of all, it did not contain the views of those who support Measures 66 and 67 and refute the assertion that companies and people are moving out of state because of the higher personal and corporate taxes.

For those shortcomings I apologize and take responsibility.
All news outlets make the occasional mistake. We should take the time to recognize those who promptly and properly recognize those errors and issue corrections, as KGW did this morning.