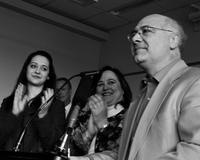 The first of what may be several Democratic challengers to embattled Congressman David Wu declared his candidacy today for the 1st Congressional District. Oregon Labor Commissioner Brad Avakian announced his intention to run at a press conference at PCC Willow Creek in Washington County.
Standing alongside Avakian in support were Roy Jay, African American Chamber of Commerce President; Metro President Tom Hughes; Hispanic Metropolitan Chamber Board Member & Wilsonville City Councilor Celia Nunez; NW Natural VP & Chair of Oregon Workforce Investment Board Dave Williams; Stephen Ying, Exec. Dir. Chinese Consolidated Benevolent Association; and Jada Pearson, a Beaverton Kindergarten teacher.
Ying's support is especially notable, as Congressman Wu is the only Chinese American in the US Congress. Wu has historically enjoyed support from the Chinese American community around the nation.
"When I heard that Brad was going to run for Congress, I was excited to be able to support him. Brad is someone I greatly respect, and today I'm proud to be standing here with the next Congressman from Oregon," said Ying. "I appreciate Brad's commitment to civil rights and creating opportunities for all of Oregon's communities. Brad is someone we can trust to get the job done for Oregon families."
(More after the jump)
"I love my current job – helping Oregon businesses succeed and protecting the rights of all Oregonians," said Avakian. "But these are principles that my district now needs an effective representative to pursue in Congress." Avakian pledged to fight discrimination and inequity in all forms, protect Social Security and Medicare, work to end dependence on foreign oil and "ensure that all women have the right to full reproductive freedom-and that includes the option of getting their health care from Planned Parenthood."
The event was emceed by African-American Chamber of Commerce President Roy Jay, who kept the event moving with a crowded slate of speakers. Jay himself was eloquent about Avakian's run: ""I respect Brad tremendously. He's the kind of leader Northwest Oregon needs because he has clear convictions to step up and address the challenges we face."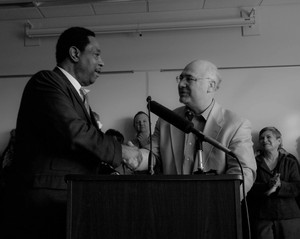 Avakian is a civil rights attorney by trade and was a state legislator beginning in 2002 before becoming Labor Commissioner in 2008. Avakian has also been very active in the community, helping to found the Southwest Music School after budget cuts forced Beaverton schools to drop elementary music teaching. He also co-founded the Washington County chapter of the Oregon League of Conservation Voters.
His work in the legislature earned Avakian the Oregon AFL-CIO "Working Families Champion" and the Oregon League of Conservation Voters named him "Consensus Builder of the Year" in 2007.
Avakian has done serious work as Labor Commissioner. His priority has been the restoration of career education and job training into schools. His office also eliminated a four-year backlog of worker complaints of civil rights and wage violations resulting in $10 million in claims. He's further debarred contractors who were violating prevailing wage laws and reportedly been able to cut the office's budget by $300,00 through savings and efficiencies.
Avakian grew up in Washington County and is married to his high school sweetheart, Debbie. They have two children.
Besides those supporters who stood next to Avakian at the press conference, his campaign released a list of additional supporters in a press release. Among them the Chairs of the Tillamook and Yamhill County Dems, several state legislators from the district, city councilors from around Washington County, among others.