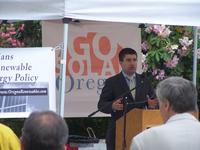 On Wednesday about eighty people rallied on the steps of the Oregon capitol to make a simple request of our legislators: don't let Oregon's solar industry go down the drain. While much of the rest of the economy has faltered, Oregon's solar sector has continued to grow and add jobs, thanks to consistent support from the state government. Programs like the Business Energy Tax Credit (BETC) and Residential Energy Tax Credit (RETC), while not perfect, have allowed solar and other renewable energy technologies to take root, grow, and thrive.
Yet there's a real danger this success could be crippled if state legislators don't increase the funding set aside for BETC and RETC in the 2011-2013 budget. We're not talking here about the kind of moderate cuts which even the best state programs can expect to experience during a budget shortfall. The cuts on the table are truly draconian, and would reduce BETC and RETC to a shadow of their former selves.
According to Solar Oregon, the current version of the House budget-in-progress would slash funding for BETC from over $300 million per biennium to just $2 million. RETC would be reduced to $1 million, down from $34 million last biennium. These cuts would hit not just solar, but energy efficiency, wind, and other clean energy projects. This is the sort of thing that stunts a growing industry, discourages job growth, and convinces renewable energy companies to locate elsewhere.
Fortunately there's still time for legislators to save BETC and RETC, and throw renewable energy industries a much-needed lifeline. In doing so they can ensure Oregon continues to chalk up renewable energy success stories: like SolarWorld's decision to hire 350 additional workers in Hillsboro last year, and Pendleton's successful bid to become the "most solarized city in the Northwest" by taking advantage of state programs to help homeowners reduce energy costs by putting solar systems on their roofs.
(Read on below the jump)
Success stories like these wouldn't have been possible without state programs like BETC and RETC. That's not to say these programs are perfect. I tend to agree with the good folks at Oregonians for Renewable Energy Policy (OREP), who argue the best way to encourage solar and other renewable power is to implement the type of feed-in tariff system that's seen runaway success in places like Germany and Ontario.
But until a feed-in tariff system is fully implemented, BETC and RETC are what the solar industry has. That's why members of OREP, Solar Oregon, Energize Oregon, and many of Oregon's most important renewable energy companies spoke out at Wednesday's rally for continued funding for BETC and RETC. That's why renewable energy champions like Representative Jules Bailey, who also spoke at the rally, are fighting to keep funding for solar programs in the budget. That's why on Wednesday a group of University of Oregon students came up from Eugene to explain why solar programs are important for young people now entering the job market.
With the right support—needed to help renewables compete with the highly subsidized fossil fuel industries—solar and other renewable power projects can continue to thrive in Oregon, creating jobs and preventing layoffs. But if BETC and RETC are allowed to go unfunded, you can expect to see solar industry leaders looking to other states to locate and hire workers. Legislators must find a way to keep these programs running, and protect the success story that is renewable energy in Oregon.