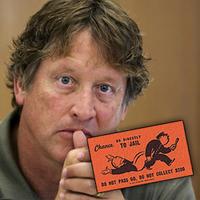 Bill Sizemore has pleaded guilty to three counts of tax evasion, and was sent immediately to Marion County jail for a 30-day sentence. He'll also serve three years of probation. His trial was expected to start next week.
From the O's Michelle Cole:
Oregon Attorney General John Kroger expressed little sympathy.

"Everybody has to pay their taxes," Kroger said. "There are no exceptions."

Sizemore and his wife, Cindy, were charged in 2009 with three counts of felony tax evasion after they failed to file state tax returns in 2006, 2007 and 2008.

Each faced up to five years in prison for every count.

Sizemore, 60, had steadfastly argued that he would be vindicated by a jury.

Last October Cindy Sizemore pleaded guilty to a single misdemeanor charge of failing to file a personal income tax return in 2006 as part of a deal that kept her out of prison and off the witness stand in her husband's trial.

She agreed to 18 months of probation.
Our Oregon's Patrick Green had a reaction, over at the Sockeye:
"Bill Sizemore refused to file his taxes to hide the fact that he was moving hundreds of thousands of dollars into his own pockets and into his corrupt initiative campaigns," said Patrick Green, executive director of initiative watchdog group Our Oregon. "It was a cynical shell game in order to fund initiatives that should never have made the ballot."

"It's great to see that the law has finally caught up with him," Green added. "The question now is whether Sizemore will follow the law going forward. Given his track record of corrupting the law for his own benefit, we're extremely doubtful."
Wow. We've always known he was a shady character - from his pre-political business dealings to the funny stuff that kept happening with his initiative petitions. (That's why an early tagline for BlueOregon was "With one eye on my beer, and one eye on Bill Sizemore.")
But I never expected that he'd be so predictable as to be the anti-tax activist busted for evading paying his taxes.
Is it the end of an era?