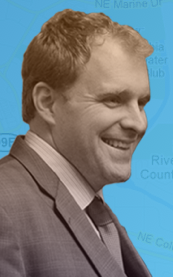 Jefferson Smith is in.
The Portland mayor's race just got even more fascinating as Rep. Jefferson Smith (D-Portland) announced he's throwing his hat in the ring.
From Smith's announcement letter:
I love our city. Portland shaped me. I was born here. Went to high school here. Made mistakes here. Built a nonprofit here. Learned here. Represented neighbors in the legislature here. Took for granted that it would always be great here.

As a nonprofit entrepreneur and then a state representative from East Portland, I've met neighbors struggling to find work or make ends meet, who want safe homes in healthy neighborhoods and don't have either. I've heard about what my neighbors of different stripes are facing and needing: sidewalks, paved roads, a fair chance at real employment, a home that isn't underwater, safe and efficient transportation, manageable bills, healthy and kind neighborhoods – and a hope for their government to be connected to their reality. And I realized at a deeper level that we can't afford to take our city for granted.

To decide whether to give up a safe House seat to run for mayor, I started by listening and thinking not merely (or primarily) about whether I wanted to be mayor, or whether I could win an election, but about what we could do as a city together. And I my wife and I -- and some priceless friends -- considered whether I could help. Like a little engine, I think I can.
Thoughts?
UPDATE: The Portland Tribune has the most substantive article on the announcement thus far, including a reminder that Smith's entry likely means a fall run-off instead of ending the race in May. That means fourteen grueling months of campaigning for the candidates who make it through the primary.