In describing his proposed agenda, Hales offered a line that underscored its overall theme: "City government is real services to real people in real neighborhoods."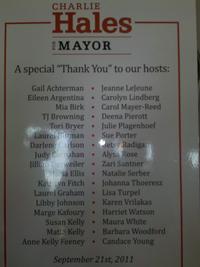 On Wednesday night, a crowd of nearly 300 packed themselves into Rejuvenation Hardware on Grand Avenue for what could be viewed as the unofficial kick-off for Charlie Hales' mayoral campaign. The event was organized and hosted by 34 prominent Portland women who hailed from all sectors of the city, including private, public, and non-profit sectors along with a few self-described "neighborhood rabble rousers." Despite their disparate backgrounds, the one commonality for all these women was their shared belief that Charlie Hales was the most qualified candidate to serve as Portland's next mayor.
The candidate was introduced by outgoing Portland Parks Bureau Director Zari Santer, who described Hales as "The kind of leader Portland needs at this time." According to Santer, Hales has the "demonstrated leadership and political skills to get things done, using his courage of convictions and ability to forge partnerships to find ways to get obstacles out of the way of progress." A veteran of the 1993 Portland Parks bond measure that established the parks system that the city enjoys today, Santer reminisced: "Charlie put more effort to pass that bond measure then he did into his own election campaign. It was his through his efforts that the first general obligation bond measure of that size was passed in Portland for the first time in 50 years, if ever." In a mayoral campaign in which equity of services to long-neglected portions of the city, Santer provided some insight based on Hales' prior experience as City Commissioner: "In the early 90s, Charlie was the strongest voice on City Council that the promises made to East Portland were kept after that area was annexed by the city."
Candidate Hales spoke next and appeared almost sheepish after Santer's opening remarks. "Can I just say 'What she said?'," quipped Hales, which received laughs in response from his crowd of supporters. Hales went on provide an outline as to why he should be Portland's next mayor. He cited family members who worked as teachers, saying that as mayor he will be the strongest partner for public education at City Hall, "turf be damned." Hales claimed to not be about "lofty generalities" but instead described himself interested in the "pieces, parts and details" of the public process. He described himself as a guy who likes to "try new things, to figure it out and fix it. Both at home and at city government. If there's a problem, let's figure it out and fix it." Hales continued to argue that other reasons he should be mayor includes his altruism- he "likes to serve"- his view that politics is "a partnership to get to yes, opposed to partisan warfare," and his responsibility of leadership, that "making a speech is not enough, but you also need to make things happen."
After outlying his case to be mayor, Hales also described his proposed mayoral agenda, beginning with an initial highlight of expanding Portland's jobs and employment base. "Its hard to believe, but we are still a manufacturing city. We make boxcars, light fixtures, pipe, steel. These products will be part of the future economy. We need to make real things- more of them- and sell them to the world." A Hales administration would expand the city's neighborhood districts, and described an "orange juice test" to determine a neighborhood's safety. "A child should be able to run out and get a bottle of orange juice- I guess a more apt analogy would be organic, free-range eggs- and bring it back to breakfast alive. This test doesn't currently apply to all of Portland's neighborhoods, and it needs to." Other proposed agenda items include a future expansion of both services and good planning into East Portland, ensuring that young people have the opportunity to grow businesses opposed to just "coming here to retire", and strengthen the city's arts culture. In describing his proposed agenda, Hales offered a line that underscored its overall theme: "City government is real services to real people in real neighborhoods."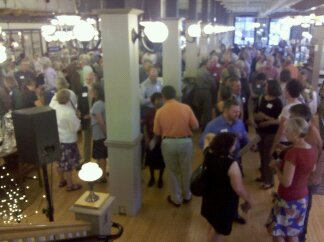 After Hales spoke, one of the evening's hostesses and "neighborhood rabble rousers" TJ Browning pointed out that of all the current mayoral candidates, Hales is the only one that you can drive all over the city and actually see the legacy of. "Anyone who runs for mayor thinks they are a leader," Browning said. "The difference between Charlie Hales and everyone else in this race is that Hales is the only with the legacy and credentials to prove that he's a leader."
Other event hostesses provided their perspective as to why they support Charlie Hales for mayor. Eileen Argentina, a longtime City employee who actually lives outside Portland's city limits, explained: "My experience with Charlie is that he is willing to tackle difficult problems and see them through to a solution. This stems from my experience working with him at the Transportation Bureau, where I worked with him on the streetcar as well as reallocating funds for basic maintenance, something that is not generally pursued by the bureau. With his experience working on the parks bond, people recognize that Hales will get in front of problems. I support Charlie because I have a real stake in the city functioning well."
Maura White was one of the non-profit representatives that helped host the evening, having worked with the Police Activities League during the 1990s when Hales served as Commissioner. "I worked with Charlie on the parks bond in 1993. I'm 48, and I've pretty much worked on campaigns since I was 10. That campaign was the best campaign I've ever worked on. Due to my involvement with non-profits, I haven't been able to endorse a candidate for 20 years, but this time I'm proudly endorsing someone. In the past, I've been apprehensive of supporting a candidate that I would get burnt by. But with Charlie, not only will I not get burnt, but he will also win."
Sue Porter, whose husband Jim Kelly owns Rejuvenation Hardware, helped initially organize the event with Marge Kafoury, who served as Portland's lobbyist in Salem during the 1990s. "Marge and I talked about how great it would be to have an event to show that women in Portland vote their conscience and are willing to come out and proudly support the candidate that is most qualified. I've known Charlie for over 20 years, and I have always felt that he did the right thing, and brought energy and commitment to city government and the projects that he worked on."
UPDATED at 8:55 PM to remove a quote from a protestor against "blatant capitalists" that was wrongly attributed to an opponent of Hales.