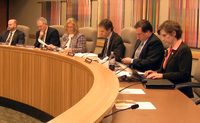 I live in CD 3. That's Blumenauer Country. My vote for Congress is pretty easy, and one I make proudly. (The same was true when I lived in Corvallis and voted for DeFazio.) I don't think CD 3 has had a competitive race since about 1932 or so.
CD 1 is a different story. Dems have held that seat for a long time, but they've had to work to win and hold it. The quality of representation hasn't been all that Democrats and residents have hoped for, but that's about to change. In fact, the quality level is going to jump up pretty damn high. One of three Democrats will be elected to replace David Wu (sorry, Cornilles; even a million bucks won't win for an empty suit) and any of the three would be a great Representative. But:
That Democrat should be Suzanne Bonamici, and here is why.
The Two Brads are both terrific public servants. Either would be an excellent member of Congress. Brad Avakian is not only a really nice man and good person, he is, to borrow a phrase from Elizabeth Warren territory, wicked smart. He's passionate about progressive issues, and that fire and intellect would be terrific assets to the House Dems in DC. Brad Witt's personality is a step or two cooler than Avakian's, but the more I watch and listen to him, the more his own strengths assert themselves. His commitment to progressive issues, and his own skillset to make them happen, have become more evident to me. His performance at the Portland City Club last week showed me he would be a fine member of Congress.
Suzanne Bonamici is not better than either Brad. Like them, she's smart, she's passionate, and she's committed to the issues that matter most to the residents of CD 1. That's the beauty of this race: Three Dems of whom exactly that can be said. Three Dems who would serve the district wonderfully. Three Dems who deserve the vote of the residents.
So why Bonamici? Simple: We need more women in Congress. Period. Of course, I can only make that statement because I believe she is not only qualified to serve, she is every bit as qualified as the Brads. In short, when it comes to skills and qualifications, this race is a toss-up. I can find no issue to separate them on. A few people have tried to do so on trade, but it's been nit-picky stuff without substance (she wants trade pacts that protect Oregon jobs, trade unionists in other countries, the environment, etc; she just won't say she opposes pacts on which she'll have no vote anyway). If I lived in CD 1, I would be happy with any of the three in Congress.
But I would vote for Suzanne because, as I said, we need more women in Congress. (We need more ethnic minorities, more GLBTQ Americans, a lot fewer millionaires -- but this is the race we have.) She is more than qualified to serve in Congress, she can beat the guy who lost big to Wu in a "red tide" year, and she'll make Oregon proud.
I don't live in CD 1, but if you do and you're having trouble deciding which of the three to vote for, I hope you will cast your vote for Suzanne Bonamici. Not because Witt or Avakian isn't as good or qualified, but because Suzanne can represent what they cannot:
Oregon's commitment to full democracy.