"First they ignore you. Then they laugh at you. Then they fight you. Then you win." -Gandhi
By Michael O'Leary of Portland, Oregon. Michael is a campaign organizing consultant with the Natural Resources Defense Council. In 2006, he wrote a short series on BlueOregon about his experience as an election observer in El Salvador.
The federal pipeline approval process, managed by the State Department (because the pipeline's cross-border origins) had been on the fast track despite on the record objections from the EPA.
Even as far back as October of last year Hillary Clinton herself described the Administration as "inclined" to approve it.
President Obama's rejection of the pipeline proposal Thursday stunned many close observers.
Here's how we did it: We got organized.
Less than one week ago on November 6th, myself and 10,000 other protestors encircled the White House in a show of political will. I've walked a few picket lines and have never seen a bigger one, or a better organized one. It was tremendous.
4 days later, President Obama issued a formal statement that tabled the project beyond the 2012 elections and is expected to prove so costly in delay that the future of the project is in complete disarray.
That's not just punting. That's the end of the game.
We weren't alone. It wasn't just one protest.
Congressman Earl Blumenauer and Senator Ron Wyden wrote the White House in objection to the conflict of interest in the permit process. Senator Wyden has also called for the investigation of the evidence of gasoline price-fixing by Big Oil to manipulate the Midwest fuel markets and went on to call the Keystone XL a good deal only for oil producers.
Local mayors like Beaverton's Denny Doyle, Corvallis's Julie Manning and Eugene's Kitty Piercy and nearly one hundred other mayors signed their own petition to President Obama asking him to reject the Keystone XL, building on the resolution passed against tar sands oil in the 2008 US Conference of Mayors assembly.
Documentary films sprang up in showings all over town that helped educate the public about the devastation caused by tar sands oil, like Dirty Oil, Spoil (which recently won the Banff Film Festival's environmental prize) and Pipe Dreams (on the short list for an OSCAR.)
Local activist groups like Portland Rising Tide helped organize local protests in conjunction with Occupy Portland.
The staff and activist members of traditional environmental organizations, like 350.org, NRDC, NWF, and the Sierra Club directed their phone banks and post cards and leveraged their relationships with Hollywood stars from Julia Louis-Dreyfus and Robert Redford.
Perhaps most importantly, concerned land owners all along the proposed route decried the use of eminent domain to condemn private farm and ranch land for use by private oil companies for export without any public benefit – a concern that mirrors that of many Oregonians fighting LNG export pipelines right now.
Obama could go back on his word. Another project like the Keystone XL might well come along. The national network of campaigners against the tar sands is maintaining a vigilant watch and will be keeping the pressure on the White House to do the right thing.
And there are other fights against big oil. There are other pipelines being reviewed. For anyone engaged in environmental politics, there is no shortage of work to do.
Case in point: According to the most recent DEQ analysis available, with data from 2009, already Oregon is importing over 8% of oil from the tar sands.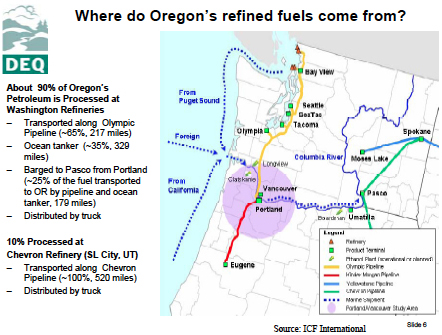 And while Oregon passed a law relating to implementing Low Carbon Fuel Standards in 2008, the DEQ has yet to publish their Administrative Rules needed to implement the new program, now running almost a full year behind their timeline published only a year ago.
With Obama tabling the Keystone XL, big oil is officially on notice that we environmentalists are once again exercising some impressive political power and have some inspirational momentum on our side. I wonder what we'll do next.
Follow the fight against the tar sands & dirty fuel nationally at Tar Sands Action and locally at Tar Free Oregon.