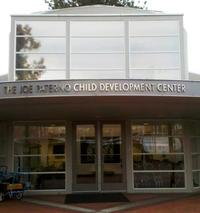 As first reported by the Oregonian's Allan Brettman last week, the on-campus day care center at Nike is called the "Joe Paterno Child Development Center".
In the wake of the Sandusky scandal (and scandal seems too light a word - maybe "atrocities"?), the idea of naming a child care facility after Joe Paterno feels deeply incongruous.
Now, I'm certain that the good folks who care for kids at Nike are wonderful and supportive. But that's exactly why Nike should move immediately to change the name.
One Oregonian, Naseem Rakha - a public radio commentator and author of The Crying Tree (a novel about "the transformative power of forgiveness") - had this to say on her blog:
"Mommy, Daddy, who was Joe Paterno, and why did they name my school after him?"

"Oh, Bobby, he was an icon. A giant of a football coach at a very big and important school, and his school had a very big and important contract with Nike. He was a legend. And, well, yes, he was fired for helping cover-up of the rape of several young boys. But, let's not dwell on that. It's not a good business strategy."

I know one thing. Those Nike glasses I was thinking of buying? Not doing that. No more Nike shoes for me, either. Or shirts, pants, socks, bras, balls, backpacks, hats or hoodies. No more nothing.
And she's not the only one.
Ron Judd of the Seattle Times says:
When Phil Knight starts cozying up to you, it might be a good time to put a defense lawyer on retainer. That's the impression one might get by strolling around the Beaverton, Ore., campus of Nike, the Great Satan of sports.
Nicole Stockdale of the Dallas Morning News suggests, "Don't name buildings after someone until they're dead":
I cringe every time a school district or municipality names a building after some beloved public figure who is still alive and kicking. I have no doubt that most are upstanding individuals who deserve to enjoy the milestone while they're still with us. But the chance for a scandal always exists, and it can flip honor into ignominy lickety split. ... Nike didn't name just any old building after the embattled former coach. It named a child development center after him.
As one Oregonian told KPTV-12:
"I would be ashamed to bring my kids to that kind of place, just knowing that the person it's named after wasn't willing to stand up for children," said Trinity Bernier-Nachtwey, a Portland-area resident who believes the name should change.
Of course, any good argument needs a devil's advocate - and Forbes's Mike Ozanian is happy to oblige, arguing it's a good business strategy:
Nike was right about [Kobe] Bryant. Is right about [Tiger] Woods. And will eventually be proven right with its decision to stick with Penn State. Nike has not become the world's top sports brand by accident.
Devils' advocate, indeed.