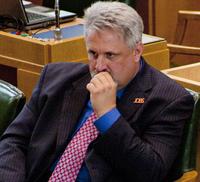 Willamette Week reports that Rep. Mike Schaufler (D-Happy Valley) has drawn the attention of two potentially serious primary challengers.
First, Mary Wendy Roberts - who served as Oregon's state labor commissioner for 16 years, and previously as a state representative and state senator. According to WW, she is "considering a challenge". In the print edition today, she says, "I think his behavior is embarrassing."
Second, Jeff Reardon, a soon-to-retire David Douglas High School teacher, longtime Tektronix employee, and Vietnam veteran. He's also the spouse of Annette Matson, David Douglas School Board member. According to WW, he "plans to file for the office early next week" and was recruited to run by OLCV.
For those who are wondering why Rep. Schaufler is the focus of so much attention, here's a rundown of BlueOregon headlines over the last year or so: