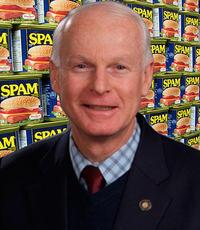 By Scott Moore of Portland, Oregon. Scott is the Communications Director for Our Oregon and was a political reporter and news editor for the Portland Mercury. Previously, he contributed Trivial Pursuit: That's Some Har-ible Reporting.
From Portland to Medford, State Rep. Dennis Richardson (R-Your Inbox) is getting blasted for his latest scheme: Exploiting Oregon's public records laws in order to get his hands on hundreds of thousands of Oregonians' personal email addresses and then sending them political spam.
Richardson filed public records requests with state agencies seeking the email addresses (and other contact info) of employees as well as anyone who has business with those agencies.
The result? Richardson got his mitts on at least 480,000 email addresses, and probably many more. He filed public records requests with numerous agencies, boards, and commissions, including the Oregon Health Authority, the Oregon Department of Education, and reportedly even the Oregon Board of Massage Therapists.
The emails included addresses of employees, clients, stakeholders, newsletter subscribers, vendors, and on and on. If you've ever given your email address to a state agency or commission for any reason--even just to sign up for a newsletter--you're probably now on Dennis Richardson's email list.
To give you some idea of how many email addresses that is: If Richardson's new email list was a city, it'd be the second largest city in Oregon.
Richardson's actions are a clear abuse and exploitation of the state's public records laws. These laws are designed to protect against corruption and to make government more transparent and accountable. The fact that a politician has exploited public records in order to build up his political spam list is an outrage.
Richardson is the Republican co-chair of the House Ways and Means Committee, which writes the state budget. He's used that position to advocate for policies that would force deeper cuts to schools and critical human services. Surprise, surprise—that's the kind of platform his new unwitting followers are now being bombarded with.
Some people, including employees at nonprofit organizations, have already started receiving Richardson's emails, starting with a politically loaded one-question "survey" about the state budget. That was followed by a long newsletter filled with political rhetoric about the need to cut the budget. He's even using the list to promote the Oregon Transformation Project, a group he runs with state GOP chair Allen Alley that also has a Political Action Committee. Worse, Richardson has revealed that he's sharing the survey responses with the Transformation Project.
In short, here's what we've got: A politician exploiting the state's public records in order to obtain contact info for hundreds of thousands of Oregonians, who he's now spamming with political emails. And now that he has these addresses, there's nothing stopping him from using them for his own legislative campaign or sharing them with other groups, like the Transformation Project or the Oregon GOP.