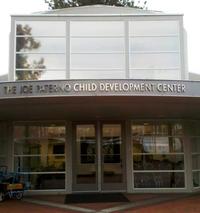 It took nearly eight months, but Nike has finally decided to rename the Joe Paterno Child Development Center.
"I have been deeply saddened by the news coming out of this investigation at Penn State," said Nike Chief Executive Mark Parker, a Penn State graduate, in a statement. "It is a terrible tragedy that children were unprotected from such abhorrent crimes. With the findings released today, I have decided to change the name of our child care center at our World Headquarters. My thoughts are with the victims and the Penn State community."
It comes in the wake of a report by former FBI director Louis Freeh, hired by the university to investigate the university response. From the AP:
The Freeh Group's report issued Thursday said that in order to avoid bad publicity, president Graham Spanier, football coach Joe Paterno, athletic director Tim Curley and vice president Gary Schultz "repeatedly concealed critical facts." The report says the men "failed to protect against a child sexual predator harming children for over a decade." The report says all four knew about a 1998 investigation into [Jerry] Sandusky that didn't result in criminal charges at the time, but none alerted the trustees and none took further action against Sandusky.
It's about time.
Previously on BlueOregon: Pressure building on Nike to rename "Joe Paterno Child Development Center"