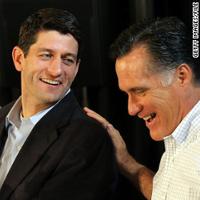 After weeks of speculation about which U.S. Senator or Governor would be picked as Mitt Romney's running mate, ol' Mitt turned the tables and surprised (almost) everyone by picking Rep. Paul Ryan of Wisconsin.
Ryan, of course, is a lightning rod. Someone that would be relatively unknown except that Democrats have been pushing him into the spotlight -- an argument made by Ezra Klein (who in turn cites Ryan Lizza):
It's worth recalling how Ryan became a semi-household name. It wasn't a Republican strategy to put him forward. As Ryan Lizza recounts in his New Yorker profile of Ryan, it was a Democratic strategy to put Ryan forward. Ryan, he writes, "was caught between the demands of the Republican leaders, who wanted nothing to do with his Roadmap, and his own belief that the Party had to offer a sweeping alternative vision to Obama's. Ryan soon had an unlikely ally, in Obama himself." While Republicans were trying to keep Ryan quiet, the Obama administration was trying to make him famous. They saw his plans as the clearest distillation of the GOP's governing philosophy — and they thought it would drive voters towards the Democrats. We'll know in November whether that was a genius strategy or an epic miscalculation.
We know that Paul Ryan will energize the Tea Party base. We know that Paul Ryan will energize the progressive base. The question is - what will be the net effect?
Brilliant move by Romney? Or a disaster? Discuss.
I'll have the results of the Punditology Veepstakes contest later this weekend.