Now WSDOT says, "nobody was expecting to be down for the count this long." It's hard to know what's next, other than agony.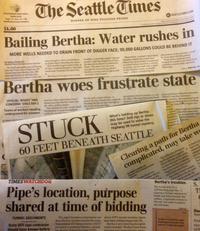 As Governor Kitzhaber pushes Oregon's lawmakers to go it alone on the costly, risky Columbia River Crossing mega-project, it might be wise for everyone in Salem to get a subscription to the Seattle Times, Crosscut, and The Stranger, stat.
Over the past two months, the Times has had headline after headline about WSDOT's latest mega-project, the Seattle tunnel. Most are about how Bertha, the world's largest tunneling machine (custom-built for this project) hasn't moved for nearly eight weeks; contractors and WSDOT have undertaken an expensive and potentially dangerous investigation.
As Oregon has no experience with such mega-projects, and ODOT has a terrible track record with its recent large projects, it is incumbent on CRC-backing legislators to learn from others.
We know Oxford University's Bent Flyvbjerg's meta-analysis shows 90% of mega-projects go over budget, with a billion-dollar cost overrun about average for projects the size of the CRC. We know how Boston's Big Dig, projected to cost $2.8 to $6 billion, ended up costing $22 billion.
Closer to home, we remember the OSHU tram, which came in at two to four times its projected cost, and with a fare more than double the estimate. That's a project one-hundred times cheaper and simpler than the CRC.
But Oregon lawmakers should also notice similarities with mega-projects in Washington, where the DOT – an agency with much more experience than ODOT in managing mega-projects, and that oversaw much of the groundwork the CRC – is struggling mightily with a big bridge project and a two-mile tunnel in Seattle.
WSDOT's Highway 520 floating bridge has suffered through huge problems with pontoons, costing hundreds of millions to fix. It has blown through its $250,000,000 contingency fund, and needs at least another $170,000,000 to cover overruns. The project was already short the $1,400,000,000 needed to complete its west end connection to I-5. As Democratic State Sen. Tim Sheldon noted:
"The money will be swept from other small projects around the state, and they won't get done. That's my prediction."
The Seattle tunnel is also mired in trouble. Sold to legislators by the highway lobby in the face of much cheaper options, the tunnel's boring machine has moved less than a quarter-mile since it was launched last July. Before the recent problems, the project stalled under a labor dispute, caused sewer spills and damage to water mains, and failed to meet federal hiring requirements. It's failed to hire small businesses, and failed to hire enough women and minority-owned businesses. The project also faces a $200,000,000 hole in funding due to tolling shortfalls.
The world-largest tunneling machine has been stuck, as WSDOT and its contractor struggle to come up with reasons (at first blame fell on running into an 8-inch diameter pipe that a WSDOT contractor had installed as part of the project, now it's unclear). Today's Crosscut notes: "75 percent of the 182 project days since launch have been days where zero forward progress has been made." All of this, after WSDOT promised: "We know exactly the path of Bertha and what she'll encounter along the way." Now WSDOT says, "nobody was expecting to be down for the count this long." It's hard to know what's next, other than agony.
There is, however, a bunch of finger-pointing. The contractor is blaming WSDOT, which is pointing back – likely in preparation for a lawsuit. State legislators are arguing with Seattle councilmembers about who will be on the hook for cost overruns. And several commentators are arguing the mega-project should simply be abandoned, before things get worse. Dori Monson:
"Yes, we've already spent a big chunk of the first billion dollars on the tunnel, but that doesn't mean we have to throw away billions and billions more plus the billions in cost overruns that are coming. We could cut our losses, shore up the viaduct, look for alternative plans."
The Seattle Times' Danny Westneat writes:
"the unsettling feeling around town isn't just that there might be some major engineering problem with the tunnel or with Bertha. It's that the story keeps changing so much that the state has drilled a hole in its credibility... This unknowable promise may have been 'delusional optimism' — when you want it so badly you can't see its flaws. Or, more likely, it was what a professor at Oxford who studies the psychology of megaprojects, Bent Flyvbjerg, calls "strategic misrepresentation."
The Seattle Times reports the mega-project fiascos have eroded the ability of the legislature to consider needs across the state, or gain the public's trust for supporting transportation investments. The mega-project boondoggles are feeding anti-government skepticism.
Back in Oregon, at January's CRC hearing, ODOT's managers have finally come clean. Kris Strickler noted, "Oregon would be responsible for any cost overruns." Strickler also noted they might be forced to raid the highway fund to cover costs. Video here.
And if Oregon's mega-project experience is anywhere like Washington's (the CRC is already 150% over budget), look out for ODOT to not only take funds from programmed projects across the state, but to beg the City of Portland and Multnomah County to cover some of the overruns (see also: Sellwood Bridge, OHSU Tram, etc.).
Reading the Seattle Times, The Stranger, and Crosscut, the best guess about the CRC mega-project is this: ten-figure cost overruns, significant construction difficulties, lawsuits, minimal hiring of minority and women-owned businesses, higher tolls than promised, loss of important maintenance and safety projects across the state, increased pollution, and increased cynicism about government.
Hopefully legislators will listen to Senate President Peter Courtney's courageous call for caution, and pull the plug.