"The future of our drinking water, stormwater and sewer systems are at stake." - Teresa Huntsinger, OEC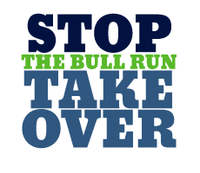 One powerful way to control election results is to control the elections process. Nationwide, Republicans have worked to limit voter access and disenfranchise millions. In Oregon, they blocked Secretary of State Kate Brown's effort last year to cut barriers to voter registration.
The latest scheme to control policy through elections process comes in the form of the City of Portland's Water District Initiative. A collection of large industrial water users apparently decided they could take control of the City's water and sewer decisions.
Their method? Using a power-to-the-people message, the measure would take $15 billion of City assets, including control of the precious Bull Run watershed, and give them to a new water district. An elected board would govern the district, but that board would be elected in off-year special elections.
The big industrial water users would be able to fund their favorite candidates and turn out their voters. Meanwhile, the measure bans those most informed about water issues from running. And those interested in the public good would struggle to find campaign funds. Imagine the house parties: "Hey! Give me money for this super-important wonky little post that you've never heard of! Yay bioswales!"
The odds would be stacked in favor of the measure's financial backers: Superfund polluter Siltronic, Portland Bottling, American Property Management, clear-cut baron Harry Merlo, and their pal John DiLorenzo, and against the public interest. A sign measure backers don't want you to know who's behind it? There's no list of supporters on their web site. The opposition, in contrast, lists a host of neighborhood, labor, and conservation groups.
The measure's backers are hoping voters will be frustrated by water and sewer rates. Despite measure backers' claims, rates were actually driven higher by federal limits on the City's ability to do more on sustainability efforts like natural sewage treatment. In the Portland Tribune, Steve Law notes:
Despite some public skepticism, a growing body of evidence shows that using nature to absorb excess rainwater often is a lot cheaper than funneling it into massive underground pipes. And many cities around the country praise Portland for leading the way from old "gray" pipe-based approaches to new "green" ones.
Measure backers are using smokescreens from the past, as they have no compelling case or defining problem to address. They repeat the story of the (already sold) Water House, the net cost of which was less than a dollar to the average Portlander. Backers focus anger on increased water rates, which were mostly driven by a federal mandate to keep human shit out of the Willamette River. And, of course, backers fail to explain how they could cut costs for repaying bonds on this already-completed project. In fact, as the Portland Mercury noted, increased borrowing costs caused by the measure would likely make operations more expensive.
Backers have attacked win-win-win solutions like focusing sewer treatment in locations that have spillover benefits to safe transportation choices, instead advocating for the inefficiencies of non-coordinated efforts. That lack of coordination and increased bureaucracy could be a headache for business permitting as well.
Underlying all of this is a cynicism about democracy. If the measure's backers are upset about the City Council's decisions on water and sewage management, they should run against them or better organize and lobby them. There's no need for a separate, industry-controlled special district.
Unfortunately, we know the backers have deep pockets, and the effort to stop the measure is considerably less well-funded. It's time to get organized and to help out the No campaign.
As the Oregon Environmental Council's Teresa Huntsinger noted in her compelling op-ed in the Sustainable Business Journal:
"the future of our drinking water, stormwater and sewer systems are at stake."
Isn't that worth a $50 or $100 contribution, or a few hours of volunteer time? Sign up, and give here. And take a moment to give The Oregonian a comment or vote in their poll about the measure here.