Irony has a way of showing its wicked self at moments so opportune...so ripe and juicy..that not taking a bite from it would be a sin. Or at least, a missed chance to have a little fun.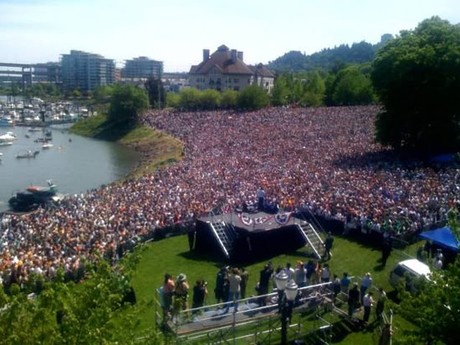 We won't keep you in suspense: Portland, Oregon, is America's Most Patriotic City. But unlike in 1889, when a newspaper called Portland "the most filthy city in the Northern states," the evidence for the ranking isn't overflowing-sewers obvious. After all, how do you gauge patriotism?

We calculated the percentage of registered voters who turned out for state and federal elections from 2004 to 2008 (Dave Leip's Atlas of U.S. Presidential Elections); money spent on military veterans per capita (Department of Veterans Affairs); percentage of residents who volunteer, participate in civic activities, and/or work with neighbors (Volunteering in America); and finally, sales of fireworks and U.S. flags (SimplyMap and americanflags.com respectively). And before anyone e-mails us from Jersey City, there are no unpatriotic towns.
Some readers may recall that staffers of President George H.W. Bush referred to Portland as "Little Beirut" because of the protests encountered by Bush on his trip there.
So apparently that old adage is true: Dissent is the highest form of patriotism. Or perhaps being deeply engaged in one's community is a catalyst to an ardent defense of it by protesting when it seems the community (and all that it stands for) is being threatened.
Perhaps if President Bush's staff had done that calculus, they could have understood the very patriotic nature of the Portland community. Or perhaps "patriotism" means something very different to them than it does to us.
Well done, P-Town.