Last week, Rep. Terry Beyer (D-Springfield) announced that she wouldn't seek re-election. The district, HD-12, was more-or-less unchanged in redistricting.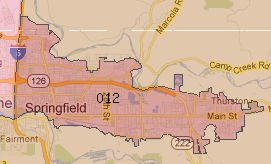 Rep. Beyer immediately endorsed a successor - John Lively, who served as mayor of Springfield from 1981 to 1986. (More about Lively below.)
Beyer's departure brings to nine the count of open legislative seats. That's quite a change from 2010, when there were zero open seats. Correction: In 2010, there were five open seats, three Democrats and two Republicans. Thanks to Rep. Dave Hunt for the note. (More explanation in the comments.)
Here's the full list:
And, of course, there are two freshly-appointed legislators that will be seeking election for the first time, Rep. Alissa Keny-Guyer (D) in HD-46 and Sen. Elizabeth Steiner Hayward (D) in SD-17.
The Register-Guard's Saul Hubbard has a good discussion of Beyer's reasons for leaving, and of Lively's background:
Lively, who will run as a Democrat, described himself as a "fiscally conservative" and "socially liberal" candidate who will prioritize "new job opportunities for Oregonians," career training for individuals who are out of work, education and access to health care for all citizens.

Lively currently works in marketing and public relations for Eugene-based Cawood Communications after a professional career that has included stints in manufacturing, retail, economic development and consulting.

Lively also has served on the boards of many local nonprofit organizations, including United Way of Lane County, the Springfield Chamber of Commerce and Strong Schools for Springfield.
What do you think? With six Democrats leaving the House, should Democrats be concerned about prospects for winning back a majority?