The good folks over at DailyKos Elections have been engaged in a project to assemble presidential election results by congressional district all across the country.
Today, they finished up the data work in Oregon. (This is complex, because election results are released at the county level and the precinct level. In order to get congressional district numbers, you have to painstakingly build up the totals from precinct-level data.)
And here's what we learned:
Obama scored highest, of course, in OR-3 - with 72.0% of the vote. And he scored worst, of course, in OR-2 - with 40.5% of the vote.

For years, Republicans have thought that they might be competitive in OR-1. Let me drive a stake through those hopes. Obama won 57.3% of the vote in OR-1 to Romney's 40.0%.

In OR-4 and OR-5, however, it's quite a bit closer. In OR-4, Obama won 51.7% to 45.0% and in OR-5, he won 50.5% to 47.1%.
I went one step further, and compared Obama's district-by-district numbers to the congressional election results.
First, to recap:
In OR-1, Suzanne Bonamici won 59.6% of the vote.
In OR-2, Democrat Joyce Segers won 29.1% to Greg Walden's 68.6%.
In OR-3, Earl Blumenauer won 74.5%.
In OR-4, Peter DeFazio won 59.1%.
In OR-5, Kurt Schrader won 54.0%.
Looking at the numbers, all four Democratic incumbents outperformed President Obama in percentage terms. And Greg Walden outperformed Mitt Romney in percentage terms, too.
Peter DeFazio and Kurt Schrader outperformed President Obama in terms of raw vote totals as well - by 24,303 and 4238 votes, respectively. (Same for Greg Walden, who outperformed Mitt Romney by 31,475 votes.)
Here's the table: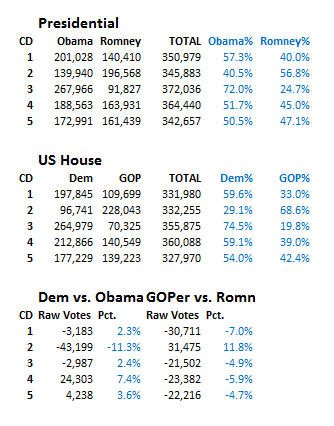 ---
Full disclosure: My firm built Peter DeFazio and Kurt Schrader's campaign websites. I speak only for myself.