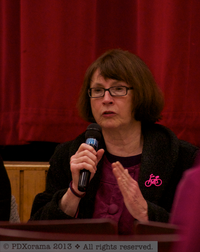 Imagine you're spending an evening at home, doing some chores, having supper, going over the work you brought home. At some point, someone knocks on the door; a stranger, and you decide not to answer it. Otherwise, a typical evening at home. And then, next morning, you discover someone had spent that evening pointing a video camera at your home and recording you. They put your address on the video. They put your license plate on the video. They call you a liar on YouTube.
Welcome to Senator Ginny Burdick's world.
"I will take more precautions because of that; that's an escalation, crossing the line. It wasn't illegal, but definitely crossing the line, and most people see it that way. I'll be reasonable. I'll take more precautions, be more observant, more aware of what's going on. I refuse to live my life in fear."
In a phone conversation on Thursday, Burdick had another word for the video: creepy. "This is just a very creepy thing. Wasn't illegal; just creepy."
So, how had she gotten herself into this creepy situation?
Like most members of the Oregon Legislature, Sen Burdick routinely schedules town hall meetings in her district. She also accepts invitations to meet with citizens outside her district, as she did on January 22, 2013, to talk about the legislation she was planning to introduce in response to Sandy Hook. She had scheduled one such town hall at PSU, which is in her district, for Monday, March 5th. But on Wednesday, February 27, five days before the event, she cancelled the town hall, citing "scheduling conflicts". In response to my question, she denied vehemently that her initial action was a mistake.
"You might disagree, but my motives were good because I didn't want to inflame the situation any more than I should do," Burdick told me.
"What I try to do in this whole effort is, I really try to keep the rhetoric under control. I try not to engage in the kind of rhetoric that's coming from the other side, you know: the panic, the fear, the hysteria. I could have said, I'm canceling it because my colleague had a town hall last week where the gun extremists came and completely disrupted the town hall. They had to call 911 because there was a guy there who was armed and inebriated.

"I could have said, I'm canceling this because I don't want to subject [students to this kind of frightening intimidation]. I had reason to believe they were coming to mine; there was no question in my mind. I could have said, I'm canceling this because the gun extremists are going to come and disrupt everybody's opportunity to ask the questions they want to ask about .

"I thought it would sound inflammatory to say, 'The gun extremists are coming; therefore, I'm canceling'. So I gave the standard answer of scheduling. I don't regret it.

"It's one thing to come and mau-mau my town hall. It's another thing to subject students to that because it can be quite scary, because these folks have started bringing in loaded assault weapons to these events. That was just an unreasonable risk, and I just couldn't in good conscience put the students through that."
Once the video came out, she had no choice but to be "more forthcoming about the real reasons." And while the video's producers are crowing that they caught Burdick in a lie, she thinks what's more important is that the tactic of stalking her shows the level to which those opposing her efforts will sink.
For Burdick, this particular kerfuffle is not an isolated incident. Because she's been on the frontline of the gun safety issue for years, she's frequently the target of attacks from those she refers to as "gun extremists" (or what I've begun calling "the gunsters"). She's used to the attacks and smears. Burdick also wanted to make another point clear: that when she speaks of the gun extremists, she's talking about a very small group of people.
"I've worked very hard to make it very, very clear that when I talk about the gun extremists, I'm talking about a small group. They're very loud, and they look far bigger than they really are because they send thousands of emails. But they are the extremist minority."
I remarked that this minority is loud enough to kill a bill before it even has a hearing.
"Exactly! And that's the other thing that I discovered early on in this process: Silence is their best friend. What I've always tried to do is get the discussion out in the open, let public debate happen. Before I got elected, I don't recall there being a major hearing on a gun safety bill."
She spoke about the deal struck by former Speaker Vera Katz, to implement background checks in exchange for a wide-open Concealed Handgun License program: a deal cut behind closed doors.
"My goal has always been to bring it out in the open: have the hearing, have the vote. When you have the hearing and you have the vote, then, finally, the public gets to weigh in. Because when politicians vote on something, then that puts them on record. So when they vote "No" on guns and schools, they're voting … against 80% of Oregonians [citing one poll of battleground districts commissioned by the Senate Democrats]. If it never comes to a vote and it never comes to a hearing, then everybody gets away with just hiding it under the rug."
The gun extremists are one end of the spectrum, marching on the Capitol with loaded weapons, using fear tactics to attempt to end opposition before it can succeed. But:
"After Sandy Hook, there are so many people who believe as I do, it's become a moral issue. We cannot hide it under the rug. Bring the debate out into the open; let the public get engaged, let the politicians vote, and let the chips fall where they may. But get it out from the shadows because we cannot afford any more Sandy Hooks and any more Clackamas Town Centers."
Burdick believes the majority of gun owners in Oregon support her efforts to enact what she believes to be reasonable regulations.
"Most gun owners are responsible. They lock up their guns. They don't point guns at people. They don't carry around guns when they're inebriated. Most of them are very, very responsible. So most of the requirements would not have that big an impact… gun owners have been willing to go through some inconveniences for the great good."
She points to the passage of the background check measure in 2000, a law that imposed fees on those going through the legal process, but a measure that passed with the support of gun owners across the state. She believes that between the proven willingness of law-abiding gun owners in Oregon to support reasonable restrictions for the public good and the visceral reaction of most Americans to the horrors of Sandy Hook, Clackamas, Aurora, Tucson, and elsewhere:
"You're seeing a new level of courage from the people who have always been on our side on gun safety but have been silenced. I think you're seeing a new level of determination that I haven't seen before in the 16 or 17 years I've been working on this issue."
The politics, she believes, are now on the side of those seeking ways to reduce the level of gun violence in America, with 30 gun homicides daily and more than three times that number of other gun-caused deaths, mostly suicides by men (two gun suicides for every one gun homicide) [source]:
"The gun extremists do not have the public on their side. They don't have the facts on their side. The only tool they have is intimidation. I think you're seeing that."
The Senate Judiciary Committee will be hearing four bills on gun safety next week (on the 14th, although it's not been officially posted). These bills would give schools authority to set policy on guns on school grounds; require written permission before bringing a concealed handgun into the Capitol (a workplace safety issue, as Burdick, who works in the Capitol, described it, noting the frequent presence of schoolkids); expand background checks; and require live fire proficiency before getting a CHL (she described the current requirements as a "joke"). Other bills are still in the Leg's pipeline; the future of these will probably hinge on how next week's hearing plays out.
And how have her constituents been regarding the cancellation of the PSU town hall? Burdick says her office has not received a single complaint. Here's how one person put in on Sen Burdick's Facebook page:
"As a PSU student and constituent, I applaud you for canceling the meeting. It is scary that these fringe gun activist don't even realize how creepy it is stalk someone. And based on some of these post, I for one wouldn't feel safe seeing anyone carrying a gun, or interrupting the meeting. You never know who the good guys are and it's a shame a few people ruin it for everyone."