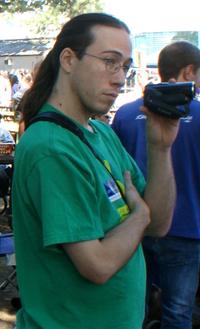 When she returns to the Capitol tomorrow to resume her work as a State Senator, Ginny Burdick will do so not knowing if any of the many she'll pass in the hallways are armed. She, like everyone else in the building, will have to trust that the hundreds of people who enter the building without any kind of security check are not as deranged as Jared Loughner or full of the unthinking rage that leads to many of the thirty gun homicides that occur daily in our country. She is, as Steve Duin noted, "the most impassioned gun-control advocate in the Oregon Senate". So, even though no one can guarantee her personal safety, it's nice to see the variety of people who have her metaphorical back regarding the covert (to be polite about it) video of Burdick's home on Monday night.
On Friday, Jason Williams of the Taxpayers Association of Oregon wrote in Oregon Catalyst, a right-wing blog, that he was "creeped out" by the video. Williams' politics could not be further from Burdick's on the political scale unless he adopted full-out fascism, but he was appalled by this tactic:
Videotaping at public events is fine, but one's private home is off limits and all lawmakers deserve a basic personal safety zone of protection. It is consistent with my civil libertarian beliefs. I also believe that becoming a lawmaker is not the same as signing up for 24-hour on duty military service — if it is, then we can expect fewer middle class ordinary folks to run and expect more rich lawyers who live in gated communities to run.

I know that the people were sincerely trying to prove a political point, but I caution against their tactics.

Fiscal conservatives, Second Amendment Supporters & Republicans cannot say they are the movement of personal safety and privacy while living out the opposite.
The Oregonian editorial board called the video a "misfire", saying they failed to see anything that backed the video's producers' claims about Burdick and "revealed instead was the self-destructive tendency of some Second Amendment supporters to hurt their own cause through intimidation, immaturity and poor judgment". The Ed Board does not fully agree with Burdick's legislative proposals, but they found nothing defensible in the invasion of her privacy.
The Statesman Journal, like Williams, found the video to be "creepy".
This whole episode is nuts. Maybe Burdick can be criticized for offering the inexact excuse of a scheduling conflict, but what's wrong with her scheduling private time at home? Besides, put yourself in her political shoes: If she publicly blamed "gun extremists" for the meeting cancellation, she would be criticized for making inflammatory comments.
I have been videoing public events for several years now. I have quite an archive of boring legislative hearings, town halls, and public rallies. I have learned the hard way that few political events make for good video. Two years ago, when I spent most of the legislative session videoing hearings and floor sessions on a daily basis, I often took "b roll" of the audience; I no longer do this. I compose shots to eliminate clear views of the public as much as I can; I'll often crop out faces in Final Cut. When I take photos or video of public events, I work hard to avoid the public and only capture the public officials.
Privacy and personal space matter, even to liberals like me. As someone seeking to make a living with his camera, I believe the rest of the world has a right to say No to my efforts when it comes to their private life. Make yourself a public figure, or a public spectacle, and you become fair game. Like the young man pictured above. I don't know his name, but I'm fairly confident he was the videographer stalking Ginny Burdick. How do I know? I took this photo of him at the 2010 Labor Day Picnic, where he was taking video of the speakers, including gubernatorial candidate John Kitzhaber. I have also seen him serving in what was clearly a "tracker" role at a debate at which he attempted to get Kitzhaber to answer some leading, accusatory questions. And when I shared this picture with Sen Burdick, she confirmed she has seen him at at least one other event with a camera.
By making himself a visible and obvious part of numerous public political activities, this man has given de facto permission to me to take and use his image. When Sen Burdick and her colleagues enter the Capitol and conduct the people's business this coming week, they likewise give permission. If a private citizen sits down before a legislative committee to give testimony, they also grant permission (although, if it is a situation that could cause them personal harm and they ask politely, or maybe just ask at all, I'm likely to not use their image).
But when they go home? When they take out the recycling hours after returning home? When they're at a park with their kids, or buying groceries, or out for dinner? When they've set aside their public work and are clearly on personal time, do I take advantage of having a camera? No. Not without their permission. Off-duty, they get to enjoy the same privileges of privacy and personal space any of us would claim. I am heartened to see the support for Burdick's privacy coming from some of her political opponents; they understand where the line is to be drawn. Will the zealots who think there are no boundaries see things in this light and change their behavior?
Or will they only continue to see a target on a woman's back?